This Friday, we offer a round up of a few books that have just come out or are about to come out that we're particularly looking forward to reading. Consider this a first – and definitely not exhaustive – entry in our Spring Reads list.

____________________________________________________________________
Matthew Olzmann
Mezzanines
Alice James Books, April 2013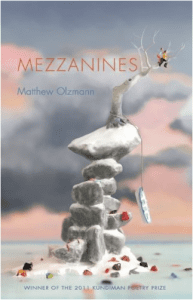 This is a book we've been waiting to read for years. Literally. After first coming across Olzmann's work in 2010, searching out his latest work became a regular habit. So much so that I even set up a Google Alert so I'd be notified if anything appeared online. The anticipation for this collection has been widespread, judging by the number of shares on Facebook when the publication was announced, as well as the general hype we've observed in the twittersphere. Both for his sheer talent, as well as for his incredible personal generosity and mentorship of a number of exciting new poets, Olzmann has already become a kind of poetry icon for his generation – a reputation we expect his debut collection, Mezzanines, will no doubt burnish and spread.
A few teasers:
Two poems in B O D Y
Poem in New England Review
Two poems in Kenyon Review
Poem in Rattle
Poem in Poetry Northwest
____________________________________________________________________
Sara Peters
1996
House of Anansi, April 2013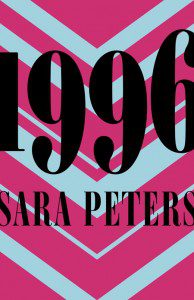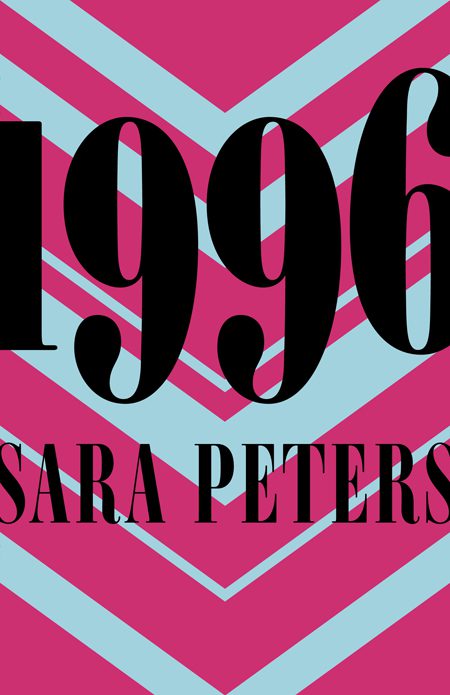 1996 is another debut collection we can't wait to read. Sara Peters is a serious, and seriously ambitious poet. She's also Canadian, and more importantly, Nova Scotian, which is kind of like being from the South, but a lot colder. The poems we've seen so far from this collection are regional yet inclusive, embracing with a warm yet critical eye the prismatic idiosyncrasies of rural culture, in a way reminiscent of the best Southern literature. Peters' poems have a strange power fueled by local lore and myths on one hand, and a severe yet generous gaze that only comes from someone who is both very much from, and yet somehow stands outside, her native culture. There's something very Bishop-like about the poems in 1996 (perhaps not un-coincidentally, since Bishop herself famously spent part of her childhood in Nova Scotia, and wrote a good number of poems about it) that seems to enable Peters' strikingly original voice.
A few teasers:
Three poems in B O D Y
Two poems in Poetry
Poem in Slate
Poem in Three Penny Review
Poem in Walrus
Three poems in This Magazine
____________________________________________________________________
Joshua Weiner​​
The Figure of a Man Being Swallowed by a Fish
The University of Chicago Press, April 2013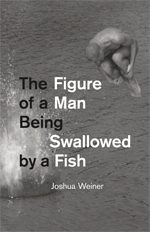 We're excited about Joshua Weiner's ambitious third collection, The Figure of a Man Being Swallowed by a Fish, not least because we have no idea what's going to be in there. Well, okay, we know a little bit, having gotten a small preview when we published a few of his poems last fall. But Weiner is poet who doesn't stand still. His books – and the individual poems he's published in magazines in the intervening years – show a poet who is constantly evolving, morphing and adapting to his influences, yet whose work is always distinctively his own. Reading Weiner's poems, one feels overwhelmed by the poet's insatiable curiosity and the rigorousness with which he explores and interrogates his subjects. The Figure of a Man Being Swallowed by a Fish promises poems that are both playful and highly pressured (often at the same time) and most importantly, inventive. Weiner is a poet who is not afraid to take risks – and risk failure – in his poetry. He's also unafraid to play across a range of sensibilities. One senses that at the end of his career, editors will be scrambling to make best-of selections based on their own tastes and reactions.
Update: check out B O D Y's review of this book by editor Stephan Delbos.
A few teasers:
Two poems in B O D Y
Two poems in Poetry
Another poem in B O D Y
Two poems in Blackbird
Poem in American Life in Poetry
____________________________________________________________________
Emily Berry
Dear Boy
Faber, March 2013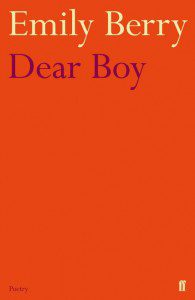 Dear Boy is the hotly anticipated (and now much talked about) debut from UK poet Emily Berry. We're excited about this book because, well, everything we've read from it so far is so good. Oh, and according to Berry's "Next Big Thing" response, the book promises "deadpan real-life fairytales". Who wouldn't be intrigued by that? Berry seems to have a genuinely inventive, playful yet absolutely serious approach to things in her poems, and from her casual wittiness, expect a good sense of humour as well. There's a lot to say about Berry's poetry, but at risk of spoiling our own fun, we'll ask you to look forward to our review of Dear Boy next week. Meanwhile …
A few teasers:
Poem in the New Statesman
Poem in Eyewear
____________________________________________________________________
Ernest Hilbert
All of You on the Good Earth
Red Hen Press, March 2013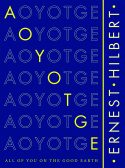 Ernest Hilbert's debut collection Sixty Sonnets (2009) was described by X.J. Kennedy as "maybe the most arresting sequence we have had since John Berryman checked out of America." With that as a preamble, we are seriously looking forward to Hilbert's follow up collection, All of You on the Good Earth, published this Spring by Red Hen Press. Ernest Hilbert is a poet who never fails to impress. His witty, warm and very human voice belies a level of formal control and command of poetic structures that is extremely impressive. He has the rare ability to make even formally structured poems feel natural and immediate. A master of the pithy observation, Hilbert is able to derive incredible insight from the most prosaic occasions. There's something reminiscent of Thom Gunn in the poems I've read from this collection – a kind of "anglo-american" sensibility that promises to once again bridge the too-wide gulf that often separates readers of American poetry from readers of British poetry.
A few teasers:
Two poems in B O D Y
Poem in the Boston Review
Three poems in Poetry
____________________________________________________________________
Katy Didden
The Glacier's Wake
Pleiades Press, April 2013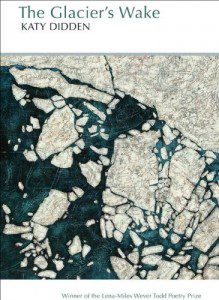 Selected by Melissa Kwasny for the Lena-Miles Wever Todd Poetry Prize, The Glacier's Wake by Katy Didden (April 2013) promises to be an inventive and interesting journey into the perspectives of large, inanimate objects. Armed with an intriguing sense of alterity, the poems in this debut collection are spoken from the points of view of a mountain, a glacier, a tree and a wasp (a promising counterpoint to the other three, both in size and scale) and perhaps even a few human subjects, which suggests the poems will offer a prismatic meditation on everything from time and mortality to loss (erosion, retreat and for the wasp, the sheer brevity of existence). We are also excited by the premise of this collection, and encouraged by the high quality of the poems we've read so far.
A few teasers:
Two poems in B O D Y
Poem in Verse Daily
Two poems in Poetry
Poem in Kenyon Review
Poem in Poetry Daily
____________________________________________________________________
Kelvin Corcoran
For The Greek Spring
Shearsman, March 2013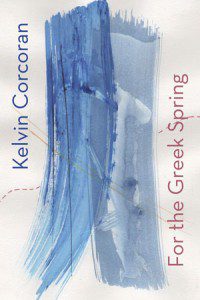 Kelvin Corcoran's 12th collection, For the Greek Spring, focuses on the poet's relationship with Greece – both the mythical, historical Greece of ancient times, and the modern day snooze zone of contemporary tourists. Combining new work with poems from his previous collections, Corcoran combines acute observation and an unflinching view of himself to create poems that are sharp, crystalline and dynamic. But what's really got us looking forward to this book is the simple fact that Corcoran, already an incredibly accomplished poet, just keeps getting better and better.
A few teasers:
Poem in Eyewear
Poem in Great Works
Six poems (audio) on Sound Cloud
____________________________________________________________________
Paul Muldoon
The Word on the Street
Faber, March 2013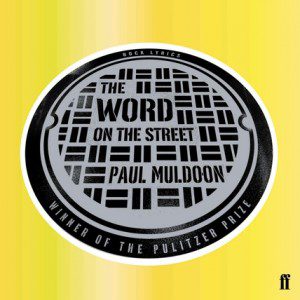 Paul Muldoon is a poet who requires little introduction. As poetry editor of the New Yorker, Princeton professor, and Pulitzer Prize winner, Muldoon is so well known it would almost not be worth calling attention to him in a venue like this – except for the fact that he is an awesome poet who, after 40 years at the center of English letters, has not even begun to lose his edge. The Word on the Street is Muldoon's 12th full length collection of poetry, and constitutes both an experiment in, and a return to, the lyric form. Embracing the essential meaning of the term lyric ("a short poem sung to the accompaniment of a musical instrument") many of the poems in The Word on the Street double as lyrics to rock songs performed by the Wayside Shrines, a Princeton-based music collective of which Muldoon is a member.
A few teasers:
Poem at paulmuldoon.net
Two poems at Poets.org
Five poems in Poetry
Lots of stuff at Poem Hunter
____________________________________________________________________
Conor O'Callaghan
The Sun King
The Gallery Press, April 2013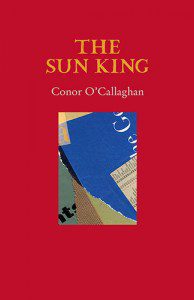 It's been eight long years since Conor O'Callaghan's third collection, Fiction (Gallery, 2005) established him as something more than a rising star in the world of Irish letters. With The Sun King, Conor O'Callaghan's fourth collection of poetry, O'Callaghan returns with force. Centred around a group of longer poems (including a "less than faithful translation of Lorca" and a poem in which the server room of an office building is reconfigured as a site of pilgrimage – something techies and Facebook addicts alike will no doubt appreciate) The Sun King promises to be both a celebration and a take-down of its own poetic conceits, in classic O'Callaghan form. The last lines of O'Callaghan's poem "The Modern Pastoral Elegy" might be enough to make any serious reader of poetry immediately preorder this book:
a warning for our planet and times
culminating with a rhetorical flourish
that pans out along these lines,
            these lines,
that pads out along these lines:

Something something something world,
something something something grope.
Something something something unfurled,
something something something hope.

Something something something dark,
something something something night.
Something something something lark,
something something something light.
A few more teasers:
Three poems at Poetry
____________________________________________________________________
And for good measure, here are two poetry anthologies due out this Spring that we're looking forward to as well:
Troubling the Line: Trans and Genderqueer Poetry and Poetics
Edited by TC Tolbert and Tim Trace Peterson
Nightboat Books, 2013
Oxford Poets Anthology 2013
Edited by Iain Galbraith and Robyn Marsack
Carcanet Press, June 2013
– Joshua Mensch