THE DEATH'S HEAD
This is our Mr. Baader, architect.
Just like any artist, he expects
His stylish plans for Hagenbeck's new cage
Will rouse Hamburg into a Baader-rage.
Did Baader fall and hit his head, you say?
Baader says Baader's head's okay. Okay?
Baader wants to show off Schiller's skull
In a lofty structure made of solid gold
He'll build halfway from Jena to Weimar
So all can see the sharpest teeth there are.
Don't ask! Don't ask! There's nothing I can say.
If Baader says Baader's head's okay, okay!
____________________________________________________________________
JOHANNES BAADER was born in Stuttgart on 21 June 1875. Between 1892 and 1895, he was apprenticed in masonry while he studied architecture at Stuttgart's Staatliche Baugewerbeschule. In 1903 he became an architect in the Vereinigung bildender Künstler für monumentalen Grabmalsbau in Dresden. In 1905 Baader moved to Berlin, where he met Raoul Hausmann.
Declared unfit for military service, he dedicated his energies to what he called "spiritual architecture", utopian designs of monumental, metaphysical, and messianic dimensions, and contributed to the journals Das Blaubuch, Die freie Straße, and Der Dada in 1917.
As self-proclaimed Oberdada Baader's Dada tactics were mainly in the form of spectacular manifestos and public performances, often in collaboration with Raoul Hausmann. In the autumn of 1917 Baader and Hausmann founded a Christus GmbH to protect war deserters, thus associating conscientious objection with Christian Martyrdom. Similarly, on 17 November 1918, Baader staged a performance in the Berlin cathedral called Christus ist euch Wurst. This action provoked a public scandal, and Baader was arrested for blasphemy. Hausmann, in turn, wrote a letter to Berlin's Minister of Culture arguing for Baader's right to free speech. In March 1919 Baader and Hausmann announced the Dadaist Republik Nikolassee to start on 1 April 1919 under the auspices of the Central Committee of the Dada Movement. On 12 March 1919 Baader and Hausmann staged a 'Propaganda Evening' in Café Austria, where they founded the Antinationaler Rat der unbezahlten Arbeiter (ARUDA) and Club der Blauen Milchstraße. Baader announced the death and the resurrection of the Oberdada on April 1 (starting year 1 in a new era), and as such, participated in the 'Erste Berliner Dada-Ausstellung' in the Graphisches Kabinett of I.B. Neumann.
Baader was a participant in the discourse of postwar Weimar Germany in a dadaist fashion, putting out his Buch des Weltfriedens, a reaction to the Treaty of Versailles, on 28 June 1919, which became known as Handbuch des Oberdada (HADO). Similarly, on 16 July, Baader threw flyers into the meeting of the Weimar National Assembly printed with the slogan 'Dadaists against Weimar' and three days later proclaimed the socialist politician Philip Scheidemann as 'Ehrendada' in a streetcar. On 11 November, exactly a year after the Kaiser abdicated, Baader printed a calling card that announced him to be president of the Earth and Universe.
Johannes Baader died on 14 January 1955 in Adldorf, Bayern.
Text Credit: 
 More extensive is Sabine T. Kriebel, 'Johannes Baader', published in Leah Dickerman (ed.), Dada. Zurich, Berlin, Hannover, Cologne, New York, Paris (National Gallery of Art : Washington DC 2005) 462-463 and online available at Dada biographies: Johannes Baader, an exhibition at the National Gallery of Art. The article is translated in French and published in Dada / Catalogue publié sous la direction de Laurent Le Bon … (Éditions du centre Pompidou : Paris 2005) 124.
— Daniel Bosch
____________________________________________________________________
About the Translator: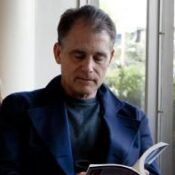 DANIEL BOSCH's book Crucible was published by Other Press in 2002. His poem, "Agnosis: Cambridge" was awarded the Annals of Internal Medicine Poetry Prize in 2011, and his essay comparing A&P fictions by Anthony Hecht and John Updike will appear in The Fortnightly Review in May 2013.
Read more by Daniel Bosch:
Three poems in B O D Y
Two poems at Waywiser Press
Three Poems at Slate
Poem at Berfrois
Four Poems at The Boston Review