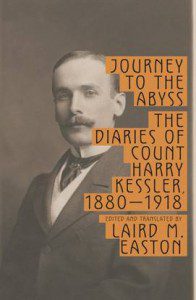 Journey to the Abyss:
The Diaries of Count Harry Kessler, 1880—1918
Edited by Laird Easton
Knopf, 2011
Speaking about Count Harry Kessler (1868—1937), an Anglo-German count, writer, modern art patron, diplomat and man-about-town, the poet W.H. Auden remarked that he was "probably the most cosmopolitan man who ever lived."
This description has been amply proven with the publication of a weighty volume of Kessler's journals, covering the period from his adolescence to the end of World War I, a conflict that left Kessler's beloved Europe in shambles, cracking his and many other intellectuals' belief that European society was on the brink of a kind of cultural utopia.
These journals are a who's-who of European culture at the dawn of the 20th century. Any reader who is interested in Continental art and culture from this period will find much to consider here. But just how cosmopolitan was Kessler? Here are just some of the famous faces who people these pages:
Poets: Rainer Maria Rilke, Paul Verlaine, Hugo von Hofmannsthal.
Artists: Rodin, Monet, Degas, Aristide Maillol, Augustus John, Matisse, Edvard Munch, John Singer Sargent, Picasso, Vuillard, Bonnard.
Prose writers: Maxim Gorky, Jean Cocteau, André Gide, Maurice Maeterlinck, Gabriele d'Annunzio, Gerhart Hauptmann, August Strindberg, Max Beerbohm, Colette, Bernard Shaw.
Composers: Ravel, Richard Strauss, Schoenberg, Stravinsky.
Theater people: Max Reinhardt, Gordon Craig, Nijinsky, Isadora Duncan, Sarah Bernhardt, Diaghilev, Eleanora Duse.
These pages first and foremost tell the story of Kessler's life in lithe, insightful prose, a style he developed over the course of his life, during which he wrote nine volumes of journals, accounting for thousands of pages. But they also tell the story of European cultural life, a rich Bohemia that slipped irrevocably toward war. A typical meeting of the minds? In Berlin, Edvard Munch painted Kessler's portrait, and a short time later, in Paris, Kessler visited Paul Verlaine's dirty flat, where the poet sketched a picture of Rimbaud in Kessler's copy of Illuminations. And, of course, Kessler was present at the riotous premiere of Stravnisky's The Rite of Spring in 1913 in Paris, a concert that heralded the beginning of modernism in music. All in a day's work for the most cosmopolitan man who ever lived.
But Journey to the Abyss is a lament too, for a Europe that Kessler watched crumble around him, and an international cultural life that was irrevocably lost. They don't make societies like they used to. And, if Kessler's life is any indication, they don't make men like they used to, either.
—Stephan Delbos