Drawing of Arthur Rimbaud by Paul Verlaine
By Jon Stone
[Read "Au Cabaret-Vert, cinq heures du soir"]
Sometimes I think Rimbaud's writings should be banned. Banned, that is, from being put before flouncy male literature students eager to reimagine themselves as dashing and romantic, since as a semi-mythical icon of artsy hedonism and unbridled passion, Rimbaud is dangerous medicine. Look at him! Storming around London and Paris, his hair wild with nits, stabbing people with rapiers at poetry readings and then running off to Africa like some kind of sexy, amoral Tintin. How could he not make us sigh and fondly imagine we're his long lost kin?
I only started reading Rimbaud after being in Harar, Ethiopia and visiting 'Rimbaud's House' (which is not really his house), where he seemed, in photographs taken towards the end of his life, to be an oddly understated and sensibly dressed figure. Le Bateau ivre was too long and Une saison en enfer far, far too long but I found there to be dozens (just) of shorter early poems, of which Au Cabaret-Vert, cinq heures du soir is one, that skipped along with the kind of rambunctious joissance every wannabe bohemian wishes to crowbar into their soul. This poem – or rather, Martin Sorrell's translation of it – particularly struck me because it made ham sound delicious just by dint of the context and the qualifiers 'soft' and 'pink'. And I don't eat ham! But the whole meal that appears in the last two stanzas has the quality both of feeling well earned (the narrator has only just made it to Charleroi after a full week on the road) and acting as a metaphor for the simple-but-hearty feast that all life is to the carefree vagabond.
Being the incorrigible scamp that he is, of course, Rimbaud also checks out the barmaid, approvingly remarking on her "tétons énormes" and noting that she has come-to-bed eyes, but without any hint of romantic pining. She's simply 'adorable' in the same way that both the naff decor of the pub and the chance to slouch indoors with a beer are to be enjoyed for what they are.
In retrospect, this poem had far too great an impact on me. I would say roughly half the poems I wrote for who knows how long after reading it followed roughly the same blueprint: good-for-nothing boy wanderer engages in some form of leisure or alleviation and finds sweetness in both the unremarkable detail and proximity of pretty girls, whose smallest gestures rejuvenate the flagging spirit. Essentially, if I sat next to one of these pretty girls on the bus, I would come over all poetically enamoured. (Incidentally, is there any synonym for 'pretty girl' that is remotely appropriate here? 'Hot chicks' doesn't really cut it). I must have written at least ten poems about getting a haircut, admiring the deftness and skill of my female hairdresser while simultaneously watching "girls in summer skirts / through the salon window" – ever the multi-tasker. I also kept returning to variations of Rimbaud's final image; one poem ended with the rain at the station as "ephyrae in the afternoon flare", another with a girl who has "gold necklace in her hair". In the original poem, that moment when the sunlight gilds the froth is perfectly alchemical – an instant of sublimation brought on by the correct alignment of seemingly disparate elements.
I can't blame Rimbaud entirely; I was already into self-mythologising verse after reading lots of early Leonard Cohen ("I dress in black / I have green eyes / in certain light") and already into mild fetishisation of female strangers after – well, after reading lots of early Leonard Cohen ("I perceived the outline of your breasts / through your Hallowe'en costume"). But where Cohen often affects to be tortured and enslaved, in Au Cabaret-Vert, cinq heures du soir, Rimbaud seemed to prove you could expect untold riches merely from impishly sidling through a life of unremarkable experiences and fleeting attractions. And even though much of what I consequently wrote I now find cringeworthy, at least it was a clean break from trying to write tourist poems about Ethiopia.
____________________________________________________________________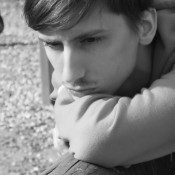 JON STONE was born in Derby and currently lives in Whitechapel, London. He is co-creator of the multi-format arts journal Fuselit and micro-anthology publishers Sidekick Books. He won a Society of Authors Eric Gregory Award in 2012 and his collection, School of Forgery (Salt, 2012) is a Poetry Book Society Summer Recommendation. He works as a court transcript editor.
____________________________________________________________________
Read more about Jon Stone: