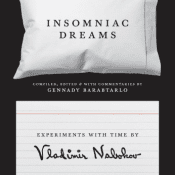 Insomniac Dreams: Experiments with Time
Edited by Gennady Barabtarlo
Princeton University Press, 2017
224 pages
In 1964 Vladimir Nabokov undertook an experiment to test a theory by the unconventional British philosopher John Dunne. In his book An Experiment with Time (1927), Dunne had examined the phenomenon of precognitive dreams and the way people experience time. One of the aspects of his theory is that dreams can be inspired by future events and that while dreaming we can reach abilities close to clairvoyance.
Nabokov, who was immensely interested in the mystery of time his whole life, wrote down more than 50 of his dreams to find out whether this was at least to some extent probable. Insomniac Dreams: Experiments with Time is an annotated edition of the results of the experiment: a collection of dreams that Nabokov had both in life and in literature.
For the curious, the publication of this book poses a question: can Nabokov's dreams provide us with an insight into the mechanics of his artistic genius?
The answer seems to be yes. Two brilliant essays by Gennady Barabtarlo, including his incisive commentaries, and a chapter containing extracts about dreaming from everything that Nabokov ever wrote do in fact point our attention to the literary orientation of these dreams. But the mere fact of Nabokov's experiment has a somewhat esoteric stature. After all, it was an attempt to ascertain whether the human mind, which he once called the miracle of consciousness, is really capable of super-natural activity. The book is a guide to Nabokov's oeuvre to the extent that it is a practical manual in scientific mysticism, if such a formulation is possible.
John Dunne's life, as retold by Barabtarlo, was full of truly Nabokovian coincidences. For instance, he came up with the idea for his book the year Nabokov was born. Dunne invented a theory that was a mixture of philosophy, science, and magic. It relies on mathematically precise methods, it discusses philosophical terms, and it aims to go beyond the materialistic worldview. No wonder Nabokov, who was a writer and a lepidopterologist, liked the theory. Besides, the idea that dreaming may be the human's way of looking into the future sounds like Nabokov's most prominent theme, that is the remembrance of the past, in reverse.
As Nabokov formulates it in the Russian edition of his autobiographical Speak, Memory (Drugie Berega (1951), or Other Shores in English) what he is trying to do in the book and in his other work is to decipher "the mathematics of Mnemosyne." So, why not to try to decipher the formula of the future?
Oriented toward tomorrow, Nabokov's dreams are rooted in the past. Their recurrent themes are butterflies and butterfly nets, family members (his father, in particular), trains (he was always nightmarishly late), and hotels. There are some funny scenes, like the one in which Leo Tolstoy says "in vehement Russian" that he "does not like that Lolita!" There are some touching details as well. In one episode Nabokov's dream character is given a butterfly and he is afraid "to spoil the precious object" with his hands (this is how one ought to think about his or her art or science).
When possible, Barabtarlo connects scenes from this or that dream to Nabokov's fiction, written before or after the experiment. For instance, the entry written on the 14th day of the experiment (October 28th, 1964):
…It is a lecture room dream and I am the lecturer. Cannot decipher my notes, fuzzy lines with illegible corrections, murky insertions, messy deletions. (This type of dream is really not so much an echo of my lectures at American colleges, as a much older, disguised, recollection of my not knowing the lesson as a schoolboy – dreams that continued to haunt me well into my thirties).
The striking dream is linked by the attentive Barabtarlo to episodes from The Gift (1963) and Bend Sinister (1947): "you again do not know your lesson – with all the forgotten shades of those school throes of old" and "finding ourselves in an old classroom, with our homework not done because of our having unwittingly missed ten thousand days of school." The relation between the tropes in the dream and those in the novels is that of a grotesque.
Nabokov would use a red cross to mark any dream that, according to Dunne's theory, foresaw or at least produced an impression of foreseeing a daytime event. Out of the whole 55 entries only two have such a mark. While this, perhaps, can be used as an argument against the "esoteric" way of reading Nabokov's dreams, the book still allows for literary interpretation.
Although it is mainly Gennady Barabtarlo's comments that promote this kind of thinking, Barabtarlo himself seems to believe that Nabokov was at least to some extent capable of foreseeing the future. The question is, however, whether this is to be attributed to Nabokov's indeed being clairvoyant or simply to his outstanding imagination. As Barabtarlo writes, "the principal movement in Nabokov's prose is perhaps that of shuttling, of going back (when memory is at work) and forth (when imagination is engaged)." It is because of this that Nabokov was capable of what Barabtarlo calls a "foreglimpse of an event that has not yet happened."
Such a foreglimpse can be found in one of Nabokov's interviews where he predicted the emergence of emojis, saying: "I often think that there should exist a special typographical sign for a smile." Or, more strikingly, it is "the new instantogram" appearing in the 1969 novel Ada, or Ardor that can be said to foresee today's Instagram. Surprising coincidences, perhaps, and certainly evidence of the power of the imagination.
Was Nabokov's experiment a semi-spiritual, esoteric undertaking, or a kind of literary self-reflection? Both. His dream diary breaks the constraints of the imagination, suggesting there is no such thing as the ordinary, and that everything is a surprise. We can't yet disprove Dunne's theory that sleeping is a way of looking into the future. We have a hard enough time defining time. And this brings us to the quote by Saint Augustine which begins the book: "What then is time? If no one asks me, I know what it is. If I wish to explain it to him who asks, I do not know."
–Anton Romanenko
_____________________________________________________________________
ANTON ROMANENKO is a student of English and American studies, and Russian literature at Charles University in Prague.