HAIR EVERYWHERE

(an excerpt)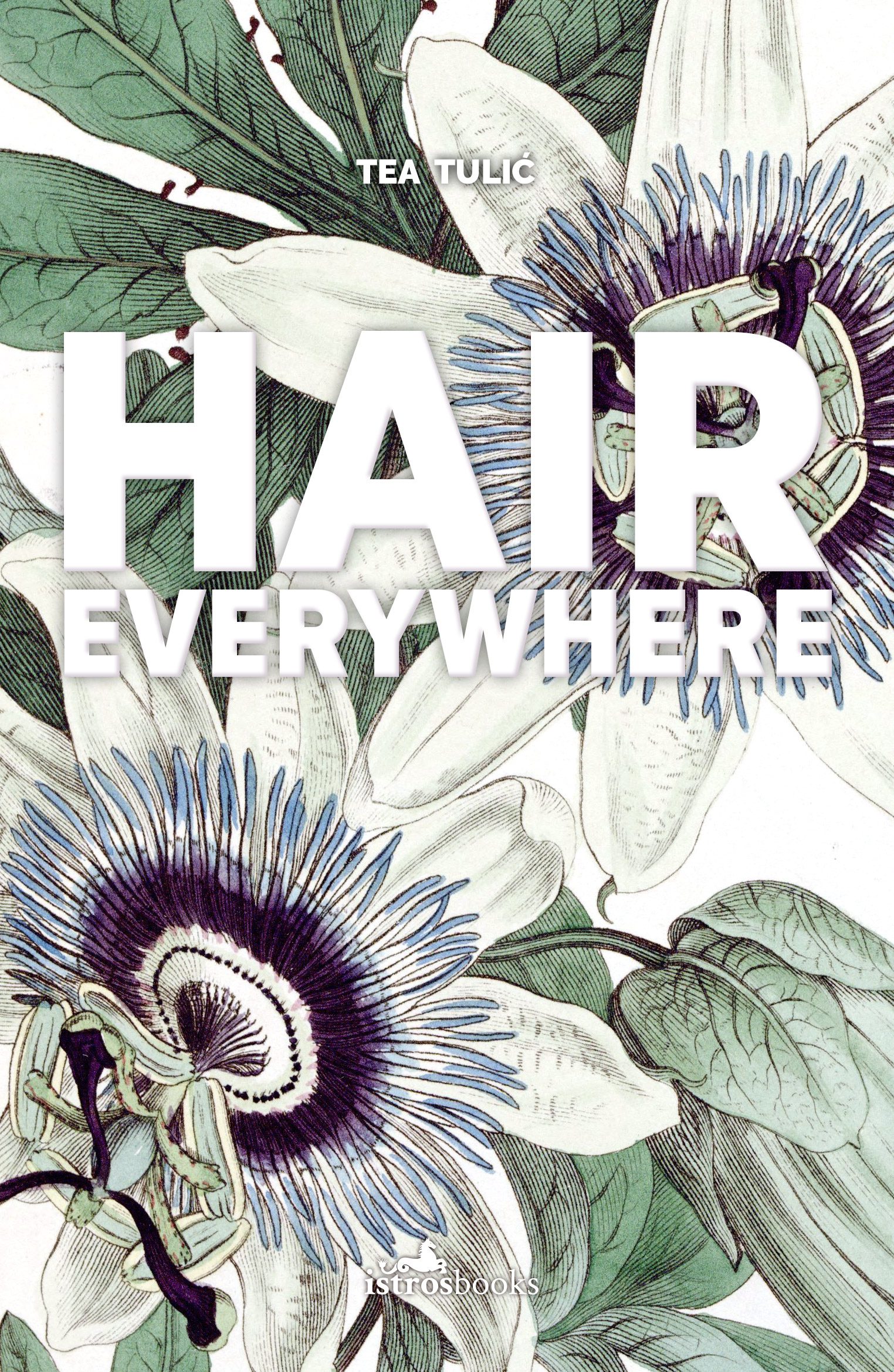 Hair Everywhere
A novel by Tea Tulić
Translated from the Croatian by Coral Petkovich
Published by Istros Books
SPELLS
I sit in the train and journey towards the south. That's where the woman lives whose fault it is that Mum is in hospital for the third time. The lady who works by day in the bank, and removes spells at night, told me this. She said Mum's eyes were like buttons in this woman's hands. I stick my head out of the window while I travel. I'm careful not to hit the overhead transmission line. I've been travelling for a long time. My hands are dirty, from the red plush and the folding table. I come out of an unending tunnel and the hills turn into mountains. Brick houses hurry by in the opposite direction. After them, dogs and sheep. After that, I pee in the toilet. I spill urine on the railway tracks. I look at my reflection in the mirror. I practice my introductory speech.
That woman put a spell on our family because she was jealous when Dad married Mum. Maybe her jealousy no longer exists but the spell remains. I tell her everything, and afterwards beg her to leave us alone. This surprises her. She is angry. Her hair is badly dyed. She says I am inventing it all. No, Mrs, I am not inventing anything, I am just imagining.
HORROR MOVIES
When Dad bought us a VCR, my brother and I watched horror movies every afternoon. At night I used to cover my neck with the sheet. Kept the wardrobe shut. Took care of the monsters under the bed. Howled at the full moon. Drank water with garlic. That was because of the worms in my intestines. But there was that one film. A woman with no skin and a man with hundreds of needles stuck into his head. They came directly from Hell. To get people. To get a fair-haired girl who, just like me, knew how to put blocks together and work out puzzles.
– Well, damn it all…I won't go to Hell!
NOWILAYMEDOWNTOSLEEPIPRAYTHELORDMYSOULTOKEEPIFISHOULDDIE
BEFOREIWAKEIPRAYTHELORDMYSOULTOTAKEIFISHOULDLIVEFOROTHERDAYS
IPRAYTHELORDTOGUIDEMYWAYS! – I prayed, sent a kiss towards the ceiling and fell asleep.
The VCR soon broke down.
THE MARKET PLACE
I don't know how to push myself through people at the market place. I am afraid rotten tomatoes will fall onto my new shoes, which are satin and seemingly Japanese. Old people here look at everything a lot, but buy little. There are five of them grouped around one stand. The seller declares:
'These are peppers from Palagruza. That's why they cost so much!'
From another can be heard:
'I was trained as a florist, these are real hydrangeas!'
I walk along and glance furtively at lemons, strawberries, carrots. If they catch me, I'll have to buy a kilo more than I want to. Twice as expensive as what I want to spend. I follow my shoes. There is a squashed leek on the ground. And slimy mud. I don't want lady's perfume; I don't want a shirt or pear brandy! I want you to wash yourselves before you come into town!
From the balcony above the polyester handbags, the firefighters lower a burnt mattress down into the street. There is no smoke. The fire engine is parked to one side. A woman with potatoes in a bag and a glint in her eyeballs asks:
'Is anyone dead?'
NICE THINGS
The book says nicely – THINK ABOUT NICE THINGS – and I think about nice things. I buy myself a nice dress, I like myself in it, take it off, lie down on the bed and blame myself for buying it in these fucked-up times. Then I think of nothing and, when I leave the house, nothing turns into everything. And everything weighs me down. The book says that when we say No, we actually get Yes. Like when a young man rapes a girl. The universe has arranged it like that, it says.
SPIRITS
The parquet floor had started to creak more than ever before, so we called the priest to come and cast out the spirit, whoever he was; out of the house. Grandma said:
'Besides creaking, it's knocking on the door at night! And turning all the pans upside down in the kitchen!'
The priest took out a special prayer book. He uttered some words, sprinkled all the furniture with Holy water and as he was leaving, he said:
'Please, keep quiet about this.'
Mum said she thought the cast-out spirit was Grandma's Mum. Grandma said that was ridiculous because she had been a very religious woman:
'She died with a cross on her breast, you saw that yourself.'
'But she died in this house!' Mum continued.
Grandma believed it was our late cousin because he didn't care about God, and he got sick and died at Christmas time. I said it was a woman with no skin and a man with needles in his head, but they were invisible.
Dad kept quiet about all this.
THE BIRDS FROM HELL
We find Grandma in a corner of the kitchen. With a plastic rosary around her neck. She says:
'Hell has opened its gates! Things are falling on the floor in the room. They're rolling around! These flowers are not from the cemetery, I swear!'
My sister and I go into the room. Two pigeons, breathing hard, are on top of the wardrobe. We shoo them away; they fly into the walls. We summon the tall neighbour to help us, the one who gives us dried meat at Christmas. He comes in and turns off all the lights. He turns off the television, too. He grabs birds, one by one, and lets them out through the window. Later, Grandma sleeps with the rosary around her neck. She puts a three-dimensional picture of Jesus on her breast.
BAREFOOT
They say that when people jump from their own – or someone else's – windows and balconies, they first take off their socks, shoes, trainers, slippers. They jump barefoot. With their hangnails, corns and hard heels. They go to join their barefoot ancestors. Some leave behind clogs with holes in them, some patent leather shoes. Bare feet are free. They draw letters in the sand. They go to get a scoop of vanilla in a cone. They walk the paths of sea urchins. They destroy the rooms for crabs. But from these rooms they leave in socks.
There is no fall. No thump.
____________________________________________________________________
TEA TULIĆ was born in Rijeka, Croatia in 1978. Her work was published in various Croatian, Serbian, Macedonian and Slovenian literary and cultural magazines, including McSweeney's. In 2011, she won Prozak, a literary award for the best young author's manuscript, which resulted in publication of her first book, a fragmentary novel Kosa posvuda (Hair Everywhere). The novel received numerous positive reviews and was included in the top five prose books of 2011 by the Vijesnik daily newspaper. Hair Everywhere has also been translated and published in Italy, Macedonia and Serbia. In 2014. in cooperation with the musical collective Japanski Premijeri, she published the spoken word album Albumče on Bandcamp.
Hair Everywhere is being published by Istros Books in May 2017
____________________________________________________________________
About the Translator:
CORAL PETKOVICH was born in Perth, Western Australia to third generation Australians of English/Scottish heritage. From a very early age she enjoyed writing, and wrote many short stories, some of which were published, others gained recognition. She met her future husband in Sydney while on a working holiday and lived with him in Croatia, where she learnt the language. Her book Ivan – From the Adriatic to the Pacific is a family saga based on her husband's true story. She has worked as an interpreter for the Department of Immigration and Citizenship, and a translator from Croatian to English. Istros' Seven Terrors by Selvedin Avdić was her first translation of a full-length work of fiction.


____________________________________________________________________


Read more work by Tea Tulić:

Fiction in Europe Now