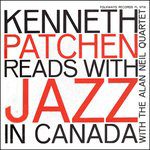 Youtube is a 21st century thrift shop, where the past drifts back to us, a plastic cup acting like a boat in the water. Plumb the depths. You'll probably come up with a knickknack of history. This week it's Kenneth Patchen (1911–1972), the novelist, playwright, artist and American poet whose name is not often found in considerations of mid-century American verse.
There are political reasons for Patchen's lack of reputation, as he came of age in the radical 1930s and was, like many writers and poets of the time, left-leaning. By the 1950s, William Carlos Williams (who also faced opposition because of his political beliefs) was sympathizing with Patchen over what he described as an organized refusal by mainstream journals and academia to review the younger poet's work. A king of the underground he became.
Another side of Patchen's hazy legacy is that his work is difficult to categorize. He was a free-wheeling creative intellect that, like William Blake (an admitted influence), refused to adhere to conventions of genre. Picture poems, painted books, radio performance, plays, novels, prose poetry, illustrations: Patchen did it all. One of his most lasting innovations was poetry-jazz; readings of his poetry with live music. The sterling example is Kenneth Patchen Reads with Jazz in Canada (1959). Recorded with the Alan Neil Quartet, it features some of Patchen's best-known poems interactively read with a hot jazz band.
Here we hear, firstly, Patchen's inimitable voice, which becomes an instrument in ensemble with the music. His language mixes high and low diction, and his vision is uncanny, yet precise. In chatty, street-wise talk, Patchen narrates at the cusp of reality and imagination. "As I Opened the Window" begins just that way. Hailed from a neighboring apartment, Patchen goes over to find a group of jazz musicians and women. What they want is beer and salami.
And speaking of musical instruments, I refer to the fact that each of them was holding a full-blown mermaid in form-fitting tights who was crooning like a Mel Tormé with a Greek accent.
There is a story, perhaps apocryphal, that bebop legend Charlie Parker was a fan of Patchen's writing and even carried a volume of his poems with him, at times reading them from the bandstand. Patchen also performed with the phenomenal jazz bass player and composer Charlie Mingus on numerous occasions in New York.
The origins of reading poetry with jazz are disputed. Both Kenneth Rexroth and Lawrence Ferlinghetti have claimed to be the innovators of the form, and Patchen actually broke off a long-standing friendship with Rexroth when the San Francisco poet said in an interview that he came up with the idea. It is important to note, however, that where Rexroth and others spoke of "poetry and jazz," Patchen insisted on calling the form "jazz-poetry." For others, reading poetry with jazz accompaniment was a way to drum up a larger audience for poetry. For Patchen, it was something new entirely, a hybrid form that brought unknown possibilities to both the words and the music.
One need only listen to Patchen's performances to note how malleable his reading style is, wending and weaving, pausing and hesitating, repeating and insisting, and always interacting with the music. The jazz here doesn't simply form a foundation as background music, but is an equal part of the performance. Patchen's political rhetoric gathers force, tempo and rhythm in an ecstatic pronouncement on American culture and society in "Glory Glory:"
Patchen also performed many of his shorter poems with music. "It Is the Hour," from Hurrah for Anything, a collection published in 1957, is one of his fine lyrics:
A sigh is little altered
Beside the slow oak;
As the rustling fingers
Of the sun
Stir through the silvery ash
That begins to collect on the forest floor.
It is the hour
When the day seems to die
In our arms;
And we have not done
Much that was beautiful.
Patchen didn't only collaborate with jazz musicians. In 1942, he worked with the composer John Cage on The City Wears a Slouch Hat, a radio play commissioned by the Columbia Broadcasting System. It's a strange journey through poetry, sound, and a fantastical urban landscape. Patchen's leading-man voice pushes the performance along as Cage's abstract sounds provide textures, drama, and moments of surprise. At times the story seems to go nowhere, yet that only adds to the drama of expectation.
Patchen's wide-ranging style, his willingness to explore and take risks in form and content, and above all his vibrant, vital energy make him one of the most unique and versatile writers of his generation. New Directions has kept much of his work in print, garnering Patchen something of a cult following. His recordings are available. Listen and read. Do something that is beautiful.
–Stephan Delbos