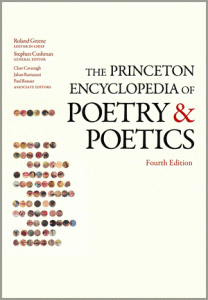 The Princeton Encyclopedia of Poetry and Poetics
Stephen Cushman, General Editor
Princeton University Press, 2012
1,664 pages
You can't say enough about The Princeton Encyclopedia of Poetry and Poetics, because it has already said just about everything. It is an encyclopedia, after all, but more than that, it is a thoroughly illuminating text that contains everything a poet or critic might need to know, from Accentual-Syllabic Verse to Zulu poetry. To put it simply, it is the most fascinating book on poetics published this year.
The poet Charles Olson thought that a dictionary was a magic text for a writer, offering mystic possibilities. The words contained therein were signifiers, yes, but they were also incantations, spells, curses, mantras. One might say the same for this volume; it is a secular bible. Opening this book is like sitting down before the altar: You are prepared for a blessing, or at least a sip from the chalice.
Edited by a group of prominant poets, critics and translators, including poet Stephen Cushman, and Clare Cavanagh, translator of eminent Polish poet Adam Zagajewski, among others, The Princeton Encyclopedia of Poetry and Poetics has been designed for maximum utility. Each of the entries contains not only in-depth definitions of the term, but also lists of critical and creative texts which should be consulted for further study. Yuefu, for example, has a page to itself. For neophyte readers, Yuefu is "not a poetic genre but a label that has been applied retrospectively and inconsistently to a bewildering array of poetic texts related to musical performance over many centuries of Chinese history." Whose mind is not the richer knowing that?
This fourth edition of The Princeton Encyclopedia of Poetry and Poetics has been updated with 250 new entries to stay up-to-date with recent developents in poetics, including slam poetry, hip-hop poetics, cognitive poetics, electronic poetry, and more. There is also a startling, staggering array of information on poetry from around the world. The entry on Czech poetry, for example, takes three full pages of tiny font, beginning with "the first poems to appear in the Czech lands…hymns in Old Church Slavonic that date to the 9th century," and concluding: "The most celebrated poets of recent years include Petr Kabeš (1941—2005), whose poetry draws on skaz, direct speech, and colloquialisms; and Petr Borkovec (b. 1970) who combines prosodic virtuosity with precise observations documenting this most recent period of upheavel in Czech culture. He enjoys popularity with readers and critics alike and has earned an international reputation." (Click for writing by Petr Borkovec in Justin Quinn's translation.)
To celebrate the publication of this fantastic volume, B O D Y will be publishing, at irregular intervals, selected (and shortened) entries from the encyclopedia. Without further ado:
Paraclausithyron: (Gr., "sung by a locked door"). While the term itself occurs only in a late source, Plutarch's Moralia 753B, it is now generally applied to the lover's futile lament outside his beloved's house. The paraclausithyron may have originated from the komos, the rowdy procession through the street after a night's drinking at the symposium, culminatng in songs spurring youthful assaults on a brothel; but in the developed form, the lover must break his beloved's will, not the door. Key elements of the paraclausithyron are the urban setting, night, the lover's drunkeness, the refusual of the door to open, tears, and a festive garland left on the threshold.
[…]
The paraclausithyron has a vivid presence in popular music of all genres: rhythm and blues (Jack McVea's "Open the Door, Richard"), doo wop (The Genies' "Who's That Knocking"), soul (Otis Redding's "Open the Door"), rock and roll (The Beatles' "No Reply"), psychedlia (Jefferson Airplane's "Let Me In"), fado (Amalia Rodrigues's "A Chave de Minha Porta"), country (George Jone's "The Door"), and samba (Jamelao's "Fechei a Porta"), among others.
The Princeton Encyclopedia of Poetry and Poetics is the rare reference book that is as entertaining and inspiring as it is informative. An invaluable, and inexhaustible, resource.
—Stephan Delbos