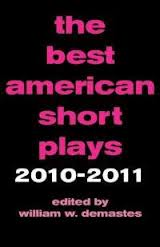 The Best American Short Plays
 2010—2011
 Edited by William W. Demastes
 Applause Press
Reading a play from a book is like listening to music underwater. Experiencing the genre in an unintended context imparts at best a semblance of the creator's original vision.
From the standpoint of both writer and reader, scripts are perhaps the most fluid forms of writing. A script is, after all, but a set of instructions. Even the most "literary" playwrights, those who include lush, lyrical descriptions of setting, character and costume in their scripts, like Tennessee Williams, must leave a great deal of room for improvisation. No theatre is exactly the same. Emendations must be made when the play is realised.
This fluidity makes an anthology like The Best American Short Plays: 2010—2011, an annual collection of plays produced over the previous year, such a pleasing experience. By definition, the 21 plays included in the volume are short, varying between 10 and 30 pages, and take at most a half-hour to perform. Reading through the plays here, one wanders through the moods and settings each play creates, finding intriguing harmonies and dissonances. In his introduction editor William W. Demastes writes that the plays included here were "selected from among a large group of very high-quality works…whose primary nexus involved matters of love in one form or another." Love is certainly the theme that connects these plays, even as their characters and setting veer from quaintly twee to poignantly contemporary.
The best plays here are shockingly evocative, like "Six Dead Bodies Duct-Taped to a Merry-Go-Round," by Lindsay Marianna Walker and Dawson Moore, which concerns a hitchhiker named Toby and a truck driver, Winston, who has plans to film a video for the internet with his medical cargo. He just needs an extra set of hands, so to speak, to complete the job. Toby has just returned from the war in Afghanistan, and is on his way home to his wife after 14 months. What follows is a volatile conversation veering from war to relationships to camaraderie and death.
Vincent Delaney's "The Request" is completely contemporary yet timeless in its examination of loss, and its enactment of the difficulty of coping with a loved one's death. After the brutal murder of his girlfriend Camille, Owen continues to view her Facebook profile, unable to let go of his grief. But it soon becomes apparent that someone is controlling Camille's account, when Owen's friends begin to receive friend requests and new photos from her. If the play were any longer it would veer into horror, but its brevity allows Delaney to end on a taut note.
Other plays are less dark. John Franceschini's "It's Only a Minute a Guy" takes place in a bar, where the bartender Henry, who is also a poet, tries to coax the recently divorced Betty into staying for a speed-dating evening she has reluctantly attended. The speed dating session allows Franceschini to introduce in rapid succession a handful of hilarious creeps, all of whom want to bed Betty. Henry of course provides the sensitive contrast, and the play moves from slapstick to touching emotion effectively portrayed.
Most people only read plays when they are studying them, and with good reason. With a full-length play, the space that is left for the director and actors to fill becomes slack between the covers of a book, and the text remains a text only, unable to overcome its spartan components of ink and paper. But all of the plays in The Best American Short Plays 2010—2011 remain tense from beginning to end. Most utilise only minimum scenery, and many consist of a single dialogue. Each of these plays creates a moment or a pastiche of moments without the trappings of acts and extensive narrative arc. Each of these plays rises, beat by beat, to a dramatic climax, and ends.
Short plays are the poems — or the pop songs — of theatre. The Best American Short Plays 2010—2011 is a fine collection of contemporary short plays that are more charming than challenging, more delightful than demanding.
—Stephan Delbos