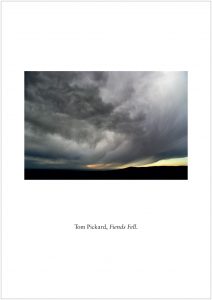 Fiends Fell
by Tom Pickard
Flood Editions, 2017
224 pages

Reviewed by Joshua Weiner

Tom Pickard's reputation as a poet of the 1960's British counterculture is now legendary. Born in 1946, in Newcastle-upon-Tyne, he was of that generation including Denise Riley, Richard Caddel, Allen Fisher, Bill Griffiths, Tom Leonard, Tom Raworth, and Veronica Forrest-Thomson who came of age in a wobbly period marked by economic boom following postwar austerity and the end of Britain's global presence as a super-power. As young poets in their twenties, they had their ears open to new sounds, picking up on the strains of international modernism that much of the poetry in the UK continued to resist, even as immigration to Great Britain dramatically increased. Pickard was a working-class kid in the coal-mining north who started getting traction in his art by bringing together Geordie dialect with the syncopated taut-rhythm modernism of postwar American poets such as Robert Creeley.
If this seems unusual, one need only recall that Basil Bunting, a friend and mentor to Pickard, forged a dynamic musical line that drew from Northumbrian roots even as they reached from ancient Persia to the poetry and poetics of Pound, Zukofsky, and Lorine Niedecker. Working across linguistic and nationalistic boundaries, Bunting developed the notion that "Dichten = condensare", an equation conveying the primacy of condensed speech as poetic element. A rich inheritance, Pickard would pay it forward. With the Morden Tower poetry readings he organized in Newcastle-upon-Tyne in the mid-60s, Pickard created something of his own scene by inviting poets such as Creeley, Ginsberg, and Ed Dorn to read when few in England had their heads turned Stateside.
Pickard's interest in Bunting, and his encouragement of Bunting at a time when the older poet had slipped into obscurity, led to one of the great reawakenings in the history of British poetry: Bunting's writing of Briggflatts (1966), a modernist epyllion that yet may stand as the best long poem in English of the 20th century (it's certainly the most humane). While the official history of the British Poetry Revival stakes its flag in the ground zero of the Albert Hall International Poetry Incarnation of June 1965, the depth of Pickard's prescient contribution to that zeitgeist stands as a source of living language, located in the northern regions of durable speech and musical legend, from Geordie to the border ballads.
Here's the title poem to his first book, High on the Walls (1967):
strange to be higher
than a bird, to watch
them eat
when startled (the only
defense to be above)
take flight, and land
at my feet
From his own perch on the wall, where he's standing, Pickard looks down; startled, the birds come up to his level, where they land. The poem's narrative is a neat inversion of high and low domain, a perception that skirts the conventional, possibly aided by getting high in another way, too. Part of the poem's pleasure is its blend of being at once formally open and closed; you can hear Niedecker there, in the meter as well as the terminal rhyme, and William Carlos Williams behind her, in the drama of a perception, how it happens at once in the mind and in the world. Crisp, clean, and cunning. No metaphysics, just the complexity of the real.
Fifty years later, we find Pickard having recently published Fiends Fell (Flood Editions, 2017), his fifteenth volume of poetry, unlike any other. It finds Pickard having left the urban scene for the harsh desolate landscape of the North Pennine mountains. Bankrupt, his third marriage having failed, he has taken up digs in an attic room above a seasonal café that serves bikers on Hartside Pass in the Eden Valley. Or rather, he serves — often reluctantly, even resentfully — bikers in the café, where he now works — this is the mid-2000s, so he's in his sixties. When he's not working, he's walking in every kind of weather, taking note of the birds he sees, and the people; shoveling coal into his stove, or not — the winter wind so strong and penetrating, it would eat through his fuel in no time. Or he's hiding in bed from the razor cold wind — the wind, always the wind — trying to keep warm and dry; preparing to go out into the freezing fog with a thermos of hot cocoa and honey; or writing at his standing desk; entertaining his five year old grandson, or old girlfriends seeking old affections, smoking dope, drinking wine, doing amyl nitrate; reading Dante and Basho and Coleridge's notebook; remembering Bunting's remarks about Williams' work ethic; or recalling Bill Griffiths' dictionary of local dialect (what's the etymology of flech?); or he's working on his long poem, The Ballad of Jamie Allan, about the true adventures of an 18th century gypsy musician who lived in the borderland between England and Scotland and died in a Durham jail for horse thievery. He dreams, he wanders, he feels awkward at intimate parties; he finds mice making nests in his boots. Such is life on Fiends Fell. The poet has his demons, but the fiend here is no doubt the wind raging from the north "like flying ice," making even his fingers "so numb I can't read in bed." But there's poetry even in the name, the fiendish wind so biting or fell, as it's understood in Scots. Language itself also occupies the border for Pickard, between England and the deeper north, and asserts its winged doubleness.
Like Dante's La Vita Nuova and Basho's Back Roads to Far Towns — key works Pickard references — Fiends Fell journal is a prosimetrum that moves between prose and verse, sometimes taking the Japanese form of haibun — in which a prose passage culminates in a set-off verse distillation –, sometimes including a discrete poem that's appeared elsewhere, other times framing an untitled but distinct poem as an alternate response to the material of experience.
Here's a set of facing pages, dated 18th October, that captures much of the journal's virtue (the dates are important because of the weather):
A diffused sun through mist and a tall pale sky, so I took my breakfast, a bowl of porridge, outside in the soft breeze.

When I returned Helen was working vigorously on a large aluminum pie-warmer but stopped to chat and told me that she preferred to clean outside with the weather so beautiful. I leaned against the wall, down on my haunches, as she bent over to clean the lower part of the machine, scouring it thoroughly. She talked of training as a nurse and wanting to be a midwife and that she had read a book on 'spiritual childbirth' by a sixty-year-old woman — 'a bit of a hippy I suppose, but she has some good things to say' — about how women used to go to hospitals like battery hens. I gave her my copy of Catherine Taylor's book on childbirth in the USA. Like all the girls she'll be gone at the end of the month when the café closes — all the swallows flown. And she is swallow-like in shape and movement, or a swift perhaps — if I had to attribute a bird to her. Our conversation reminded me how long it was since I had been close to a birth and how rooting an experience it was. As she walked back inside the café kitchen she said 'I'll leave it to dry in the wind' — meaning the oven she'd finished cleaning — and I thought how I too was drying in the wind, brushed by her swift wings as she flew past.
__________________________________________________
edge of displaced echoes
air around and sound
of bird and plane
a swallow's glittering chitter
The appeal of such prose is its 'easy breathing' — an attribute Pickard looks for in the translations he's reading, of Dante and Basho — ; it's full of unfussy poetry, metaphorical actions, subtle lyrical lift. And it's unabashed and plainly matter-of-fact as well about its maleness, the sexual interest that adds keenness to the exchange; (though what other poet-dude would have a doula's book on childbirth on hand to give away?) The feeling-sense of ephemerality and mortality, of seasonal work marking time, and the coming loneliness of a long winter ahead, all are felt on the pulses. The four line poem on the facing page is exemplary free verse, the echo attributed to bird and plane coming together in the final line to create a single image of sight and sound captured in the internal rhyme ("glittering chitter"), the edge of the echo rippling outside the margins, where Pickard stands, himself displaced by time and circumstance. Dichten = condensare. Bunting's imperative is there, deep down, so integrated it constitutes a strand of Pickard's poetic DNA.
Here's another, dated 5th November:
A buzzard, sometimes two, hunting close to the café most of the day. Their wings upturned at the primaries and their feet frequently hanging — the undercarriage down — either by habit or in hope. Last seen at 4.30 and the light very dim.

It's difficult to keep out of bed as an icy wind is gathering its forces, sounding the tiles, whistling through gaps in the window frame.
_____________________________________________________
For Bob
The whole sweep of the day.
If I were Creeley
I'd know what I meant
and make it a poem
but I'm not
and I don't
and I have.
The gathering force of such writing is how unforced it comes across, how transparently artful a phrase such as "sounding the tiles" creates its effect of turning the roof into an acoustic instrument of distress. No, Pickard is not Creeley, and he never was less. "The whole sweep of the day" belongs to him alone, the poem in homage finding in the negative the poet's singular possession.
As it pulls together personal reminiscence, quick concrete thinking about poetry, natural observation, literary gossip, dreams, political remarks, court hearings and late night trysts, poem drafts, and long quotations from traditional songs and ballads of the borderlands, the vision and value we derive from the journal is the impression it lends of a whole culture, where poetry is treasured for not being separate or set off from the everyday. Every day for Pickard has its sweep, if not its swift, with time passing on the wing, and light falling on the fell.
— Joshua Weiner

_______________________________________________________________________
JOSHUA WEINER is a regular contributor to B O D Y.
Previous reviews:
Transit by Anna Seghers
Gift and Gear: The Work of Thomas McGrath
Uljana Wolf & Christian Hawkey's Sonne from Ort
_______________________________________________________________________
Read an exclusive excerpt from volume two of Fiends Fell by Tom Pickard
_______________________________________________________________________
Buy Fiends Fell:

Flood Editions
Small Press Distribution (SPD)
Indiebound
Amazon