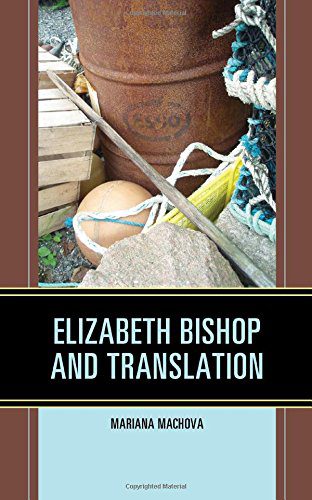 Elizabeth Bishop and Translation
By Mariana Machová
Lexington Books
2016, 182 pp
"Is it lack of imagination that makes us come / to imagined places, not just stay at home?" This question animates Elizabeth Bishop's famous poem "Questions of Travel." The concept of physical travel being inspired by a lack of imagination suggests there is another, inner kind of travel undertaken by the writer, and also the translator. Translation is a journey into the work of others, into a different language, a different place, and a different culture. Bishop made this journey repeatedly throughout her life, and as Mariana Machová shows in Elizabeth Bishop and Translation, her translations were not just exotic excursions – above all, they were parts in a process that opened a space that inspired her own writing.
Literature's special ability to travel, crossing boundaries of language, land and culture, have become more central to literary studies in the past two decades as transnationalism has widened the framework we use to read and contextualize the work of certain writers. Machová, who teaches American literature at the University of South Bohemia, has been a part of these travels, as she has translated Bishop's poetry, prose, and correspondence into Czech. In Elizabeth Bishop and Translation, she turns to Bishop's own translations and argues for their centrality in the Bishop canon. According to Machová, translation for Bishop was a "reoccurring presence in her creative life, which was by no means dominant, but which was present there all along, like a basso continuo beneath the main voice of her own poetry."
Bishop is hardly neglected by critics, yet her translations have been largely overlooked, or dealt with only individually. In the first part of her study, Machová provides a critical overview of all of Bishop's translations in chronological order. When she discusses the translations, Machová relies on basic concepts from translation theory without depending too heavily on them: her aim is not to assess the translations but rather to position them in the framework of Bishop's writing. She also provides a background for each translation: its genesis and historical context. But the translations are more than just an expanded commentary on Bishop's own work – they are examined as literary texts in their own right. It is a noteworthy approach that has only too seldom been used in anglophone literary criticism.
In most cases, Bishop translated what she wanted, and her preference shows what she was drawn to as a reader. In her translations, Bishop often ventures into territories she would not (or was not able to) access in her own work, including various genres, topics, or forms. The translations sometimes emerge as a missing link between her poetry collections. At other times, they tune us into notes we would not normally associate with the poet, ranging from carnivalesque to elegy to an explicit social message.
The second part of Machová's study builds on these reconsiderations and presents close readings of Bishop's work. Machová interprets several poems ("Brazil, January 1, 1502," "In the Waiting Room," "12 O'Clock News," "The Map," "The Bight," "Cape Breton," "Santarem") and a short story ("The Sea and Its Shore") with Bishop's translations in mind. She focuses on categories of the Familiar, the Foreign, and the Unknown. When she ties these to the translations, a pattern emerges in which translation serves for Bishop as a way of dealing with the Other, which is never completely claimed, or kept distant and exotic. Ultimately, Bishop lets diverse voices be heard in both her translations and her poetry.
Machová clarifies her arguments in the final section of the book, "Translation as Poetics." Here she convincingly presents her case that Bishop was a poet with a "translator's mind." This refers Bishop's openness to plurality, a willingness to let various voices speak in her poetry, and also an awareness of the "richness and potential of language." Machová argues for the applicability of translation as an aesthetic stance to other poets as well. This offers new and exciting areas of research, especially in context of recent reconsiderations of the concept of American poetry, and the part translation plays in shaping it.
Not only is her book a valuable contribution to Bishop studies, it also presents a case study for reading translations alongside a writer's original work. The scope is admirable: Machová draws on works published and unpublished, letters, biographies, and critical material. She analyzes translations in Spanish, French, Latin, and Portuguese. Her style is concise, her argumentation detailed and thoughtful. Throughout the book, Machová stresses the unique bond between the poet and his or her translator. She herself is a prime example of this and her intimate knowledge of Bishop's work is demonstrated in her readings (perhaps critics, too, can have translator's mind?).
Translation brings out uncertainties about language and its ability to convey meaning, especially in relation to poetry, which is often deemed intransmissible and untranslatable. Bishop – a poet fascinated with words, names, and dictionaries – shared these uncertainties in relation to her own work, too. The interplay between the unknown, the foreign, and the familiar, as well as the distance allowed by the work of others, provided her with a space in which she could create. "Translation poetics tends to see a poem not as an answer, a result, a perfect artifact, but rather as a space of dialogue, interaction and search, as a process, an attempt," writes Machová. A perfect translation, like a perfect poem, is never possible: "the search itself is poetry."
— Františka Zezuláková Schormová
_____________________________________________________________________
FRANTIŠKA ZEZULÁKOVÁ SCHORMOVÁ is a PhD student of English and American Literature at Charles University Prague and translator from English and German.