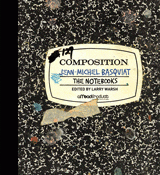 The Notebooks
By Jean-Michel Basquiat
Edited By Larry Warsh
Princeton University Press, 2015

As an object, The Notebooks by Jean-Michel Basquiat is one of the most interesting books published in recent memory. A facsimile edition mimicking the classic Mead marble notebooks in which Basquiat scribbled, complete with dirty masking tape, coffee stains, phone numbers and dusty footprints, the volume collects eight of the New York artist's personal notebooks from 1980 to 1987. That not every page holds the same energy and interest as the book itself is no fault of Basquiat's, for these notebooks are just that — catchalls for anything that drifted through the artist's mind, from random phrases to drawings, phone numbers to poems — idea breeding grounds that were never meant to be published.
Yet readers of these notebooks receive a strange reward. Those who are artistically inclined will find the beginnings of some of Basquiat's most famous drawings here, including "Famous Negro Athletes." Those taking a literary approach to the book will find striking descriptions, strangely appealing turns of phrase, and drafts of poems that — interestingly enough — seem remarkably up to speed with contemporary avant-garde American verse.
At times, these pages are little more than notes to self, offering interest to the biographer, or anyone daring enough to call "MARYANN" at "228 3968" just to see if she picks up. (She didn't). Another entry reads, in its entirety:
NEW ORLEANS–
BUS — 159.60–

FRENCH QUARTER


THE COLLUMNS — HOTEL
Other entries are more striking in their odd power, achieving a kind of poetry without scaffolding:
ANTS ON A CHICKEN BONE
WORKING MEN BREATHE THE DIRT OFF
THE BIG WHITE
WHITEBREAD WITH THE CENTER ATE OUT
A BALDHEADED BOY ON A BICICLE

TEXTILE WASTE
A BIG ALBINO BOY COMES IN THE DINER
2 COKES FOR A BIG BODY
There's a roughshod literary appeal here, a kind of brut poetry, spelling mistakes and all, that is analogous to the urbane primitivism of Basquiat's art. Because Basquiat regularly used poetry in his paintings, these pages often give the reader the feeling of inspecting the x-rays that would eventually flesh themselves out on canvas.
Some of the entries in the book capture the uncanny energy of the best of Basquiat's artwork, while hinting at the diversity of influences from high and low culture that informed his style. One entry tells a story of bebop legend Charlie Parker in surreal, street-wise language:
IN STOCKHOLM THEY HAVE THEIR ROACHES IN A ZOO.
A COMBINATION OF WORRY AND THOUGHT–
A FOURTEEN YEAR OLD SWEDE IN NEW YORK
1959. — GOES TO BIRDLAND AND BEGS
TO BE PHOTOGRAPHED WITH CHARLIE FUCKING–
BIRD PARKER__SHE SHRUGS HIM OFF–
CHARLIE MAKES HIM BUY ALL HIS RECORDS–
SWEDISH CHOCALATE SOLDIERS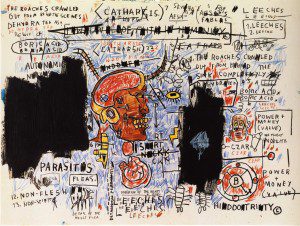 Basquiat first gained recognition in the late 1970s in the Lower East Side of New York City, under the graffiti tag SAMO (meaning "same old shit"). Around the time of his appearance on Glenn O'Brien's legendary cable access show TV Party, Basquiat began to make waves in the city's art scene, eventually coming under the wing of Andy Warhol. He rode the international art boom of the energetic 1980s, becoming one of the most recognizable faces in contemporary art. After Warhol's death however, Basquiat became increasingly isolated as his substance-abuse grew more severe. He died of a heroin overdose in his studio in 1988. He was 27 years old.
Few of the entries in the The Notebooks are distinctly autobiographical, but the one poem that seems to communicate clearly about Basquiat's life is also one of the most affecting pages in the book. Entitled "PSALM," it reads, in part:
THIS IS NOT IN PRAISE OF POISON
ING MYSELF WAITING FOR IDEAS
TO HAPPEN-MYSELF-THIS NOT
IN PRAISE OF POISON IS THIS IS NOT
NON
THE NOUN POISONOUS POISONED
SO SELF RIGHTOUS POISONED
NO ONE IS CLEAN
FROM RED MEAT TO WHITE
POISON
Every book is meant to be read differently. Some are studied, some are put up with, some are enjoyed, and some are admired. In this sense, The Notebooks is a book for all seasons — it is a text and an art object at once, adding a new dimension to our knowledge of Basquiat's thought. It brings us under the surface or behind the scenes, whichever metaphor you prefer, showing the artist at his most protean, and pure, stained with the life that rarely slows down long enough to be captured in words.
–Stephan Delbos