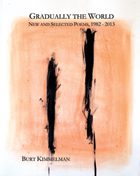 Gradually The World:
New & Selected Poems, 1982–2013
By Burt Kimmelman
BlazeVox
252 pages
Burt Kimmelman is a poet of observation. Over the course of three decades and seven collections of poetry, Kimmelman's powers of observation and description have become keener as his work has insisted more forcefully on the significance of the present moment. It is a development on display in his most recent collection, Gradually the World.
Like Cid Corman and William Bronk, two clear influences, Kimmelman often finds occasion for a poem in a seemingly insignificant moment. Sometimes this is a moment of familial pastoral, as in "Making the Bed," in which a simple, quotidian gesture becomes the site of communion. The poem begins:
summer country, in the morning the leaves
bend
to the window & fold
the house in . mountains & sun . i fold
the blankets, hand smooth. When
you're here
i know it. […]
Here Kimmelman's prosody is as light — and seemingly as inconsequential — as the act of making a bed. Yet as his verse is divested of bombastic effects, a quiet craftsmanship comes through. The spaces between word and full stop, the lower case "i" insisting that the narrator does not take precedence over the scene: It is a meditative poem whose form enacts the mood and is largely responsible for tone.
One of the pleasures of a volume of selected poems is that it allows the reader to see recurring themes in a poet's work. Throughout his writing life, Kimmelman has maintained an interest in ekphrastic poetry, or poems that attempt to describe and write through works of art. Works by Gaudier-Brzeska, Franz Marc, Gerstl, Kandinsky, Robert Motherwell, Picasso, Charles Demuth, Degas, Rodin, Sol Lewitt, Ed Ruscha, and several other artists make appearances here. A focus on works by abstract expressionists aligns Kimmelman with the New American Poetry, which emerged after World War II, concurrently with these ground-breaking artists. But Kimmelman's interest in art is wide-ranging.
Kimmelman's poem on the great Catalan surrealist Joan Miró is especially eloquent. Entitled "Miró At The Guggenheim, 8.13.87," it captures not only the child-like wonder of Miró's work, but also the uncanny experience of viewing it:
the hair line
across
the eye, the red sun, these
are the creatures
of the air
who dance and cajole . these things are
to be loved, sight
to which we cling […]
There is a delicacy to Kimmelman's language, here and in all his best poems, a gauzy diction that seems to barely hold together, yet allows the subject of inquiry or observation to show through, giving it respectful precedence. Here the dance of the eyes along the canvas is reenacted in language and coupled with the clean delight of an accomplished work of creativity.
As Kimmelman's poetry has become more insistent on observations, his craft has become more keen, employing syllabics and ancient Asian forms including haiku and the Lushi verse form. Both share not only a reliance on syllable count to determine line length, but also the sense of form as a vehicle for observation, presentation and surprise. Each of the lines in "Red Maple Tree, Mid April" has four syllables, delicately capturing the scene with a form that draws little attention to itself yet provides a frame for observation:
Swaying in air
below the branch
a filament
of the tree's red
flowers, soft pulp
caught in a silk
thread — the weeping
spring, the letting
go to begin […]
It's a joy to have three decades of Kimmelman's poetry collected here, allowing the reader to chart the evolution of craft and interest in Kimmelman's work and to chart, ultimately, a life in touch with poetry and art. Dates and seasons play an important role in these poems, appearing regularly in titles throughout the collection. In this sense, Kimmelman is not only a poet of observation, but also one of occasion.
Whether it's "At a Willem de Kooning Show with Michael Heller," "Visiting the Nursing Home," "Sidewalk Café, Spring," "Waking My Daughter for School," or "A Visit to Gloucester," Kimmelman's poetry tracks moments of the self in the world. In this way, while lightly indebted to Corman and Bronk, Kimmelman goes beyond the abstract qualities of their often interior verse, combining it with the ranging activity observable in the work of first and second generation New York School poets. These poems memorialize thought and action, rather than thought in action. As Kimmelman has said, "over time, quality of attention has become hugely important to me in my life and in my writing especially, and this sense of the act of attention, or attending to the presence of moment-by-moment experience, is what I want more than ever to memorialize."
There is a sense of the world gradually opening up here, image by image, line by line, poem by poem. It is a world of art and beauty and family and friends. It is the world of an aesthete aware and appreciative of the physical bonds that hold us here, and accepting of the artist's responsibility to translate the ineffable language of life into something more permanent, on canvas or page.
–Stephan Delbos
_______________________________________________________________
Read more by Burt Kimmelman:

Two poems in B O D Y
Poems, reviews and more at the poet's website