STRANGE AMUSEMENTS
The ladies are fainting.
On celadon their eyes are falling, tearful.
The ladies are fainting, they are folding,
they are falling to the floor, fading away,
and sleep is coming upon them.
As the men of business, the men of serious matters,
the men in whiskers of which one can not speak
without a sense of dread and animation,
as they are making their gilt-edge investments,
the ladies are sinking onto floral-patterned couches,
they faint when the admiral winks at them,
when they find they've been undone
by the false protonotary,
or when they are playing "puffing the dart".
Whether they mend a tear in the chrome-yellow wall–
that is yet to be determined; whether they dream
in the midst of their spell–that is to be determined, too.
Why don't you recline in the dark salon,
and drink a green drink, and drink the valerian
tea for the nerves, cease for a moment your listening
under the keyhole, under the laurel, under
the spiderweb, under the rose. In the garden
there are statues and their artificial music,
the wind playing over the strings of the harp
and fountains that seem to speak. And the heart
of Midlothian, the Lie Circumstantial,
lies in the shade of the hearts-ease.
Under dominos and apparitions, under the apricot,
under the bay tree and under the opium,
they are drinking wine from a transparent vase
that a glass-blower made in the shape of an owl.
And the gentlemen come to call, to teach them
to play the clarinet, to overcome their shyness,
to show them the new mechanical dove,
the automaton spider, and the view
through a magic cylinder. They promise
and they flatter–surely among them there is one
who will remove his glass eye, and hold it to the sun?
There is the white and cloudy orb, the drop
of nectar on the tongue. Throw down
from your window the broken lamp.
And throw from your window bewildering light.
Lie down and sleep on the emerald bed
beneath the abortive flower.
____________________________________________________________________
GEOFFREY NUTTER has published four books: A Summer Evening; Water's Leaves & Other Poems; Christopher Sunset; and most recently The Rose of January, published by Wave Books. He has taught poetry at Columbia, The New School, NYU, Poets House, and the Iowa Writers' Workshop, and currently runs a private workshop in upper Manhattan.
____________________________________________________________________
Read more work by Geoffrey Nutter: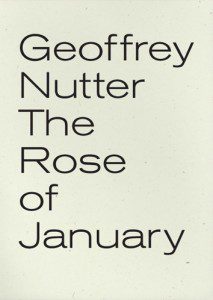 Poem in Hinchas
Poem in Poetry Daily
Poem in Gwarlingo
Buy The Rose of January by Geoffrey Nutter from Wave Books.