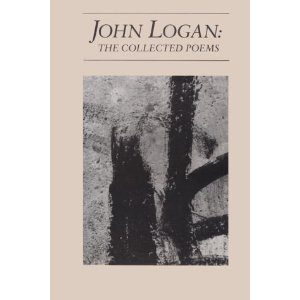 The Collected Poems

By John Logan
BOA Editions, 1989
The late John Logan  (1923-1987) is a poet who doesn't get nearly enough attention.  Reading his posthumously published Collected Poems, one begins to understand the subtle yet profound nature of his poetics, which foregrounds an intensely physical, at times frenetic musicality while exploring deeply personal issues of religion, spirituality and a man's inadvertent, yet inevitable failings as he tries to remain true to himself, yet is bound to remain true to his friends and family.
Logan's poem "Three Moves" is a personal favorite from the book. Published originally in The Zigzag Walk (1973), the poem indicates a maturation in the worldview of the poet, who began his career as a devoted Catholic poet before moving away from the church. At the same time, the poem indicates a maturation of his style, as he seems more in control of his peculiar musicality, which, in later poems, would find him cracking words open over line-breaks to reveal the possible rhymes of every letter and syllable.
The poem is clearly personal, expressing the loneliness the narrator feels after "three moves in six months," possibly following the break-up of his marriage. But make no mistake, this is no conventional Confessional poem. Although Logan does follow the trope, used so well by Robert Lowell in "Skunk Hour," for example, of reflecting personal feelings through the image of an animal (in this case the ducks that surround the narrator's houseboat), he twists and expands the Confessional tradition, through his idiosyncratic use of form, as well as his ability to balance self-deprecation with humor. The final lines of the poem are revealing.
Oh these ducks are all right.
They will survive.
But I am sorry I do not often see them climb.
Poor sons-a-bitching ducks.
You're all fucked up.
What do you do that for?
Why don't you hover near the sun anymore?
Afraid you'll melt?
These foolish ducks lack a sense of guilt,
and so all their multi-thousand-mile range
is too short for the hope of change.
In Logan's universe, guilt is the emotion that can propel us toward change. Without it, we are powerless to transform our lives and our relationships.
Logan published seven books over the course of his career. Three collections of poetry, including the Collected, were published posthumously. This is a body of work that has influenced poets as diverse as W.S. Merwin and Gerald Stern. Logan's poetry, with its deft balance of self-reflection and ramshackle musicality, is refreshing. He was a truly original poet who deserves to be read more, and more thoroughly.
—Stephan Delbos