HONEY, I KILLED THE CATS
(an excerpt)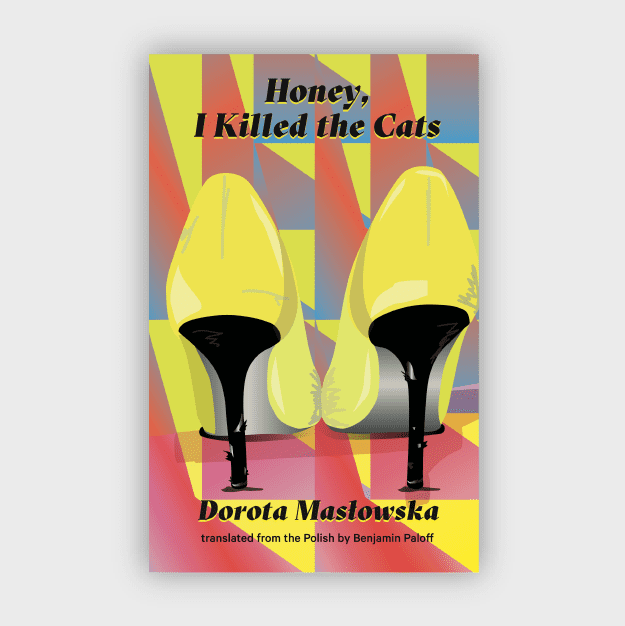 Honey, I Killed The Cats
A novel by Dorota Masłowska
Translated from the Polish by Benjamin Paloff
Published by Deep Vellum Publishing
Chapter 1
There was a white-ruffed cat lying in the street in front of the apartment building, neither warming itself in the sun, nor really even alive, as we might surmise from the fact that there was no sun, nor any other reason to lie there among speeding cars. Some patrol will eventually come and take him away, Farah thought in her dream, and, tugging at her pajama bottoms, which had given her a wedgie, she went back to reading her magazine.
She had just been taking a personality test, and . . . Well, it's not like in your life it's always the time and place to be reading Sartre in the original from upside down to around the back, is it? She had been wandering around a set slapped together from bits of university campus and pieces of former apartments, familiar staircases, streets, and other scraps of the past, when this copy of Yogalife fell into her hands.
Oh, a new issue, she thought, surprised, since the last one had come out just a couple days before. Flipping through it—"Yogastyle," "Meditation: We Select the Best Gadgets!"—she had happened upon this test.
"Yoga and You: Friends or Bitter Rivals?," "Are You a Sexy Yogi?," and so on—you get the idea. But barely had she marked her first response when she noticed a small, rose-colored slip of paper written with strained carelessness, with stylized urgency . . .
"See you in class on Wednesday . . ." the note announced. The font changed a bit further on, and everything was written in a heated whisper, as if it were in French. F. didn't know French, but that's precisely what she sensed in her ear and much, much deeper than that: ". . . maybe we could meet for coffee, you know the place . . . I want to watch as you drink cappuccino and that silly foam mingles with the lipstick on the rim of your mug, oh yeah . . ." ". . . every day I think of throwing a bouquet of flowers into your car and booking it, just booking it like a puppy, so that all you'd see is my back disappearing into the crowd, my backpack bouncing in an awkward sort of way, a vulnerable sort of way . . . "
"But . . . but I . . ." Farah says, turning the love jottings in her hands. It has left her breathless. So all those days that she'd thought were empty, unremarkable, and pointless, days that had cast her like a diseased fish onto the shore of a solitary evening . . .
For the moment, the fact that she didn't have a car somehow slipped her mind.
. . . all those hellish days whose soundtrack consisted of the whining of teakettles and the dings of her neighbors' microwaves announcing their frozen hamburgers' arrival at "repulsive, and warm to boot!"; lunchtime conversation from behind walls, recalling in its dispassionate timbre a language course in which the same lesson ("What's new at school?" "For the love of God, pass me the cheese knife.") is replayed ad infinitum, out of thriftiness, or else maybe that's all the words and things there are to say in the language of those sleepy, defeated late September afternoons . . .
Days that she'd taken for lost, days when she'd felt like air that was slightly thicker and English-speaking, it must have been then that someone had been watching her the
whole time, following her, dazzled by her existence, going crazy over her and . . .
"I can still see the line of the seam in your pantyhose . . . I think about when I'll get to see for myself whether it's a seam or just drawn with a Sharpie on your lotioned calf, shiny as glass, and whether I might someday slide my tongue along it, all the way to . . ."
But I don't wear pantyhose with seams, she suddenly realized, releasing the sheet of paper, which immediately fluttered and fell among the autumn leaves, half-eaten chicken wings, dog shit, and crumpled Starbucks cups. Where it was immediately picked up by Frank, that dude from her yoga class, the one she really quite liked. He was wearing a natty gray sweater and a tidy little collar, his magnificent teeth were shining in the September sun like the keyboard of some expensive instrument, and you could smell the aroma of his Tide Vivid with the chlorine-free bleach on the wind. It was the smell of tennis and summer at the shore, and Farah even thought that she could hear the swoosh of the ocean trailing off behind him, the squeals of frolicking children.
"So, then, what do you think? Will Joanne like it?"
"Sorry . . . ?"
"I don't want her to think I'm some kind of degenerate . . . I'm sorry, but what was your name again?"
"Farah," she replied. "But call me 'Fah.'" Then, while he was already lying at her feet, and the wool of his sweater was becoming increasingly blood-soaked, she thought how stupid it was to introduce herself to someone she was just then shooting; it was a good thing she had had the presence of mind not to give her last name.
She covered his body, well, as well as she could, with her Yogalife, and, pulling up her pajamas, whose legs had already become saturated with the flowing blood, she walked away toward the ocean, which roared in the distance—eternal, boundless, understanding.
Chapter 2
It was Friday; that same night, Joanne had dreamed she was having sexual relations with the delivery guy from BBQueen Grill. He was a short, uncomely Mexican with a wild look and work-worn, definitely brutality-capable hands whose touch disgusted her with the whole of her being, but which she also visibly desired. Because now, as he, having tossed the thermal-insulated bag with her beloved chicken wings into the foyer, was raping her, she, though resisting, was doing so without conviction, and at the same time all of this was giving her, as happens, a sensual pleasure that was hard to deny.
Suddenly she heard a gunshot. Obviously that happens in this city, full of weirdos; everyone who lives here, when he hears a shot, immediately starts yawning, because he knows it by heart: the ambulance, the flashing lights, the gawkers shrugging their shoulders, and the cops who, besides scattering greasy donut wrappers everywhere, "are not releasing any information."
Joanne shoved her lover aside like a sack of dry leaves, then opened the door and . . .
The white-ruffed alley cat was lying there motionless, like it was sleeping. What kind of sick monster would shoot an innocent cat? Joanne thought, taking her phone out to call the police. Once she had gotten closer to it, however, she understood that a cat's all well and good, but there was some person there, too. A magazine had been draped quite casually over him, and he was ringed in an expanding puddle of blood.
She stared vacantly at the tracks of smallish, bloody feet, which "left" the room, led down the stairs, out the entryway, turned left on Water Street, and headed north, toward the ocean.
"It's obvious!" she whispered, marveling at her own ingenuity. "He was killed by someone without shoes!"
This discovery totally exhausted her newly discovered detective skills, and Joanne carefully lifted the magazine from his face . . .
It was, to her pleasant shock, a new Yogalife! Was this some bonus issue?
It happened to be opened to a personality test, already filled out a little, something along the lines of "Is Yoga Your Whole Life?" or "Are You a Sexy Yogi?" She perched herself tout de suite beside the body of Frank from yoga, the one who sometimes looked at her so strangely, and, leaning against his savagely bullet-riddled corpse, she started taking the personality test with great passion, blood sloshing over her pecked-at stilettos all the while.
When she was telling them about this dream at work the following day, she completely skipped the part about the BBQueen delivery guy, but she delighted in analyzing the stuff about the cat, the corpse, and the bloody footprints. It was collectively determined that it was all "totally Lynch," and that someone should write a screenplay about it, but Joanne, returning home in her preposterous Ford Pinto, was already thinking—though it goes without saying it's not a done deal—about what she would do with the ten million dollars she'd get for the rights, that it would be enough for everything she ever wanted.

____________________________________________________________________

DOROTA MASŁOWSKA is a renowned, multi-award-winning Polish writer, playwright, and journalist born in 1983. Hailed as the greatest young writer in Poland as well as Polish literature's enfant terrible, Masłowska received the prestigious Polityka Prize for her debut novel, Snow White and Russian Red, published when she was just nineteen years old (and published in English by Grove Atlantic). The book garnered massive critical acclaim in Poland, has been translated into over a dozen languages, and was made into a movie directed by Xawery Z˙uławski. Since then, she has written several novels and plays and has become a celebrated literary figure in Poland. Honey, I Killed the Cats, her second novel to be published in English, has been adapted for stage.

____________________________________________________________________

About the Translator:

BENJAMIN PALOFF is the author of Lost in the Shadow of the Word (Space, Time and Freedom in Interwar Eastern Europe) (Northwestern University Press), named the 2018 Best Book in Literary/Cultural Studies by the American Association of Teachers of Russian and East European Languages. He has also published two collections of poems, And His Orchestra (2015) and The Politics (2011), both from Carnegie Mellon University Press. He has translated several books from Polish and Czech, including works by Richard Weiner, Marek Bienczyk, and Andrzej Sosnowski. He has twice received grants from the National Endowment for the Arts—in poetry as well as translation—and has been a fellow of the US Fulbright Programs, the Stanford Humanities Center, and the Michigan Society of Fellows. He is currently a professor at the University of Michigan.