SINGER IN THE NIGHT

(an excerpt)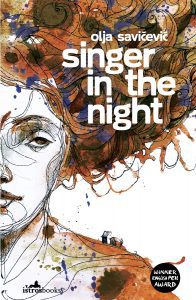 Singer in the Night
A novel by Olja Savičević
Translated from the Croatian by Celia Hawkesworth
Published by Istros Books


Letter From A War Veteran
Sometimes at night I hear someone making love noisily, then when I open the windows, I light a cigarette and blow smoke into the darkness. (Otherwise I keep myself well shut up, I put on the air- conditioning and the TV, any programme that happens to be on so that I am not alone.)
Sometimes I amuse myself by trying to figure out which of you, my neighbours, is kissing.
For instance, I know a charmer from this street who used to hand out call-up notices but never saw the front line himself. I hope it isn't him. I don't hate him now, and I despise him ever less, I only remember him when I meet him in the street or a shop and say: 'hi.' But still, I hope he is not the one screwing. I hope that the fact that he handed out summonses to war in his Bermudas and flip-flops makes it hard for him to get it up. That would be poetic justice, but it never happens in reality, presumably because it is poetic, and not real justice. In reality, the surviving victims get cancer or diabetes, while the criminals get a new identity and Bermuda, the odd year behind bars, perhaps, some crack up, their nerves fray, they kill themselves, or their family and then themselves, but the thing with criminals is that they mostly don't have any nerves, not a single one, that's why their throat-cutting goes so well, neither their voice nor their hand trembles. I don't know what the people who hand out call-up notices get, what their bag is, but I'd like them not to get laid.
And the guy four floors down, a miserable wretch who exploited his uniform to break into the flat of someone in the army, and he's still living there – let girls not give him their pussies or men their cocks. Hey, women of Split, I yelled a few evenings ago from my window, please don't give the geezer from the fifth floor your pussies! No pussies for thieves! Then he called the police on me, he, the thief did, anonymously. Those people, the ones who stole in my name, make me cringe with shame, Mr Policeman, can't you see, they're disturbing my public peace and quiet!
I wanted to be the street's hero. But the war took me by sur- prise. There was nothing heroic about it. We were driving towards Dubrovnik, our unit was, and from the opposite direction, we were passed by a convertible with young people in it, including girls, we were driving along the old road, slowly, and I saw their faces, my contemporaries, maybe they were students, first or second year, like me, it was summer and Dubrovnik was at the end of the world.
Were they the street's heroes? They fucked their way through the war, you could see it like that. I didn't see it like that. But when I shat myself when I was hit in the legs by shrapnel from a shell – I was lying up to my neck in shit, I put my hands over my face and caught sight of my nails with blood congealing under them – then I thought about the girl in the convertible, I thought nice things about her, maybe that saved me, we were just lying on a beach and instead of blood and gunpowder, I had sand under my nails and on my finger tips a bit of sun screen from her back.
Tropical Blend. You have to get out of here, lad, said my commander when it was over. I have to get away from here. In the next war, if there is one while I'm still of military age, I'll be a deserter, I'll run away disguised as a woman, like one of my colleagues from Uni, then I'll drive a convertible, a dilapidated jeep or fine two-seater, next to a girl. Even if the enemy fires at the gates of my town, intending to burn and kill, even then I'll run away so as not to fire at my enemy.
I'm interested to know how I'll feel then when I drive with a girl in a convertible past soldiers driving on the other side of the road, knowing that they are going to war. Disgust with them or with myself? With them or myself? In some circumstances, that's the most terrible thing, you'll always be wrong, no matter what you do and that fateful bullet will follow you faithfully, you will feel it, whether it's fired or not, there's rust in your flesh as well.
Does the girl in the convertible ever remember that encounter on the road or did she quickly forget that by-passing of two worlds in a moment one afternoon? The girl was coming from paradise, I was going to hell, but at the same time, in the same place. When she glanced at me, in those few seconds, did she find me comical, disgusting, a stoned idiot, a potential butcher, appealing, perhaps a hero, did she feel uncomfortable or was I close and dear to her? Did I mean anything at all to her, a symbol, an emotion, to that delicate brunette with the wind tangling her hair and revealing her face and who a few days later, in the moments before death, became my life, the thought of her tossing me out of the blood and excrement into the light?
After some time I forgot everything to do with the war. For the most part, I shifted the dead and the devastation away and moved on, I decided – here's the university, a job, girls, a regular life, I handed over my weapons forever. When people ask I say I'm a worker or a sportsman, an engineer, a dad, a mountaineer, but not a soldier, you're a soldier in war and that's it, it's peacetime, you have to get out of the war through your head, because it's only through your head that you can get out, but like this, in the evening, when someone's making love, and I'm standing on my balcony looking at the sky in the dark, I remember that girl, a mirage on the road, almost unreal compared to fairly concrete death, but still invincible – such are illusions – and I think of myself, a second-year student, a soldier who didn't wish to die so that he might one day be able to rub her back with sun screen.
I'd like you, who are ardently making babies in the night, when you bring them into the world to tell them that there's nothing heroic about war, tell them that in passing, just in case, and repeat it several times.
At some stage, when school text books will contain the words There is nothing heroic about war, when newspapers publish headlines saying There is nothing heroic about war, when television announcers say There is nothing heroic about war, when generals come out in public with the military secret There is nothing heroic about war, when people proclaim from pulpits and minarets There is nothing heroic about war, when a war veteran whispers to his beloved as they lie naked as children There is nothing heroic, or romantic, about war, when directors produce a Hollywood film entitled There is nothing heroic about war (because a troop of fools in a real war come off better than a troop of wise men), then it really will be, after such a long time, important news.
And the soldiers will, willy-nilly, take off their boots and emerge from war, to carry on constructing a civilian life. Wherever they are.
An old warrior.
____________________________________________________________________
OLJA SAVIČEVIĆ is one of Croatia's leading contemporary authors and a representative of the so-called 'lost generation'. Her work has been included in a number of Croatian anthologies and international selections, including Dalkey Archive's Best European Fiction and McSweeney's Quarterly Concern. Her writing has been translated into over fifteen languages and her short story collection To Make a Dog Laugh won Croatia's best young author prize. Her collection of poems Mamasafari and Other Things was short-listed for the 'Kiklop Award for Best Collection of 2012', awarded annually by the Pula Book Fair. Her debut novel, Farewell, Cowboy, was widely reviewed in the UK and US and selected for WHSmith Travel 'Fresh Talent' 2018. Singer in the Night is her second novel, and is also set in her hometown of Split, Croatia.
____________________________________________________________________

About the Translator:

CELIA HAWKESWORTH worked for many years as Senior Lecturer in Serbian and Croatian at the School of Slavonic and East European Studies, University College, London. She has published numerous articles and several books on Bosnian/Croatian/Montenegrin/Serbian culture and literature, including the studies Ivo Andrić: Bridge between East and West, Voices in the Shadows: Women and Verbal Art in Serbia and Bosnia and Zagreb: A Cultural and Literary History. Among her many translations are two works by Dubravka Ugrešić; The Museum of Unconditional Surrender, which was short-listed for the Oxford Weidenfeld Prize for Literary Translation, and The Culture of Lies, winner of the Heldt Prize for Translation in 1999. Hawkesworth was again shortlisted for the Oxford Weidenfeld Prize in 2018, for her translation of Belladonna by Daša Drndić, which was also a runner-up for the new EBRD fiction in translation prize in 2018. Her translation of Belladonna also won the 2018 Warwick Prize for Women in Translation.
____________________________________________________________________

Read more about Olja Savičević: