DONALD HALL was an inveterate New Englander. This is one casual secret of everything he wrote, from his poetry to his books about poetry, and baseball, and life in New Hampshire, and even his books for children, most famously Ox-Cart Man.
But an intimate understanding of the New England worldview isn't needed to appreciate Hall's best work because it is deeply human. Universal. Thus the transcendence of his art. From the start of his prolific career, Hall's life and work grew out of, and outgrew, his New England upbringing and the concept of place.
At first it was his imagination, voracious reading and award-winning student scholarship that jolted Hall out of his inherited geography. After Harvard he studied at Oxford and took the opportunity to travel throughout Europe and the Balkans. Then came tragedy. The early death of Hall's second wife, the gifted poet Jane Kenyon, inspired some of the most probing poems about death and loss ever written by an American.
As a poet, editor, anthologist and critic, Hall was a centerpiece of anglophone poetry for more than half a century. He was, infamously, one of the editors, along with Robert Pack and Louis Simpson, of the important anthology The New Poets of England and America (1957), republished in 1962 at New Poets of England and America: A Second Selection. Note the important loss of the definite article, which Hall himself commented to me in 2014 "was controversial!" The anthologies gathered the leading formalist poets of the day from both sides of the Atlantic.
Today The New Poets anthology is most famous as the foil for Donald Allen's The New American Poetry (1960). Together these anthologies, which contained none of the same poets, were taken to be a complete picture of innovative verse in English after World War II, a misconception that persists to this day. Allen, in correspondence Charles Olson, wrote "The academic poets of the decade are well enough represented in the Meridian Books anthology edited by Donald Hall, and others, and I do not plan to include their work in the anthology I am compiling."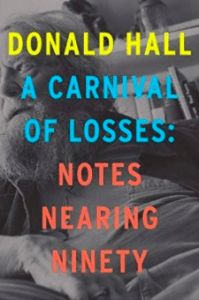 A Carnival of Losses:
Notes Nearing Ninety
By Donald Hall
Houghton Mifflin Harcourt, 2018
But one of Hall's greatest attributes as an editor was his willingness to concede shortsightedness and to allow his opinion to change as his point of view developed. In 1962 he published Contemporary American Poetry, with which, he wrote in his final book A Carnival of Losses: Notes Nearing Ninety, he set out to right previous wrongs: "Back in the sixties, ten years after the Academic Anthology, I wanted to make a decent and catholic anthology of new American poets — as a corrective, and in order to bring good news to a large, international audience."
Hall would go on to have a long and illustrious career as a poet and freelance writer, becoming poet laureate, marrying and living with Jane Kenyon, whose death of leukemia in 1995 at the age of 47 would be the bitter inspiration for some of his most famous work. As Hall noted in Carnival of Losses, hospitals often recommend his poems about Jane's death to patients facing terminal illness. Through it all he was Hall. In Essays Approaching Eighty he wrote with some glee about wearing khakis to the White House when President Obama presented him with the National Medal of Arts. His natty old suits no longer fit.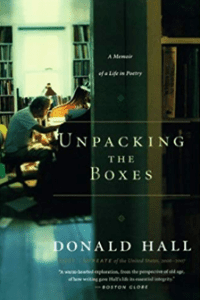 Unpacking the Boxes:
A Memoir of a Life in Poetry
By Donald Hall
Mariner Books, 2009
Hall's death in June 2018 at the age of 89 is not so much a loss for American letters as the logical, only possible, if sad conclusion of a long, illustrious life in literature. A Carnival of Losses, as well as his latest Selected Poems and other recent work, will ensure that Hall's gift for language and insight, his uncanny understanding of the simplicity of grief and illness and the timeless pleasures of nature, as well as the importance of roots and family history, continue to be enjoyed by generations of readers.
There's nothing that feels particularly posthumous about the essays in A Carnival of Losses. They brim with vitality, humor, pathos and keen insights such as "In your eighties you are invisible. Nearing ninety you hope nobody sees you." This is one of the finest books of prose Hall published. It will be of interest to readers who care for crafted, charming writing, and those who want to know how to age wisely and well, and also, of course, anyone who reads American poetry.
The second section of the book, "Selected Poets of Donald Hall," is an entertaining compendium of gossip and literary insight about poets including Theodore Roethke ("a blood chemistry of enthusiasm"); Robert Creeley ("I loved him and his poems"); Louis MacNeice ("He was inward; he was friendly"); James Dickey ("One of those people who cannot forgive you if you do them a favor"), and many others. The variety of poetic styles represented in this section gives lie to the so-called anthology wars of '60s and '70s. As Hall remarked to me in 2014, the poets of the post-war era "were ecumenical."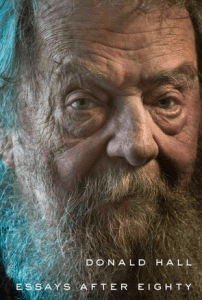 Essays Approaching Eighty
By Donald Hall
Houghton Mifflin Harcourt, 2015
Another recent collection of Hall's prose, Essays Approaching Eighty, feels slighter but is no less entertaining and full of excellent writing about human events. It follows in the tracks of other prose collections by Hall, including Unpacking the Boxes, a brilliant, candid memoir of a life in poetry, both as a writer and reader.
The Selected Poems of Donald Hall is, as the poet writes in the "Postscriptum," a "more selective" grouping of poems than his previous Selected Poems which, he admits in Notes Nearing Ninety, had gone out of print anyway. Hall's Selected Poems is a slim, satisfying collection of carefully wrought poems, beginning with the steady metrics and rhyme of "My Son My Executioner" first published in the 1950s, and continuing chronologically to his final poems.
"My Son My Executioner" is a poem in which the combination of love and rue the father feels for his newborn son is beautifully expressed, even as the meter and rhyme remove the poem from the communicative language of the everyday home. The poem begins:
My son, my executioner,
I take you in my arms,
Quiet and small and just astir,
And whom my body warms.
Sweet death, small son, our instrument
Of immortality,
Your cries and hungers document
Our bodily decay.
The poem weighs the conflicting feelings of fatherhood, and attempts to come to terms with the balance of life and death the son represents. In Hall's words, this dilemma is "the mortal paradox." This is a traditional, even classical approach to childbearing, but one that candidly admits to the ambivalence of the young father.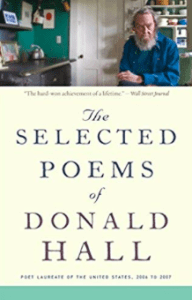 Selected Poems
By Donald Hall
Houghton Mifflin Harcourt, 2015
Later poems from Hall range both in form and in scope. "Eating the Pig," from 1974, is a raging, humorous yet sympathetic narrative about a pig roast. In A Carnival of Losses, Hall writes that the morning after said feast, "I ran to my workroom and began to scribble pig lines of poetry. Out roared a tsunami of images and diphthongs and obscurities. My handwriting could not keep up." This is just one of the many pleasure of reading Hall in different volumes concurrently: you get to see the same poems and events from different angles.
Hall stopped writing poetry in his 80s, but continued to write prose. It is a wonder he did. But no wonder. As he wrote, "writing sustains me." And it is a true pleasure to read his writing, even when anecdotes are repeated from book to book, from prose to poem: Here was a man gifted with language turning over and over again the events of his life in the rock tumbler of his vocabulary.
Death was Hall's great theme, in one form or another, at least since he saw his son as an executioner. Dying, living, mortality and the possible immortality of poetry recurred in Hall's poetry, prose and literary criticism (everyone should read "Death to the Death of Poetry") until the end. If Hall was concerned about his own literary immortality, I hope he can rest easy, given his dedication to expressing human experience in clear, incisive language such as: "Now and then, especially at night, solitude loses its soft power and loneliness takes over. I am grateful when solitude returns."
Hall was a treasure, of New England, of the U.S., of the English language, of humanity. His writing bestows richness with every rereading.
—Stephan Delbos