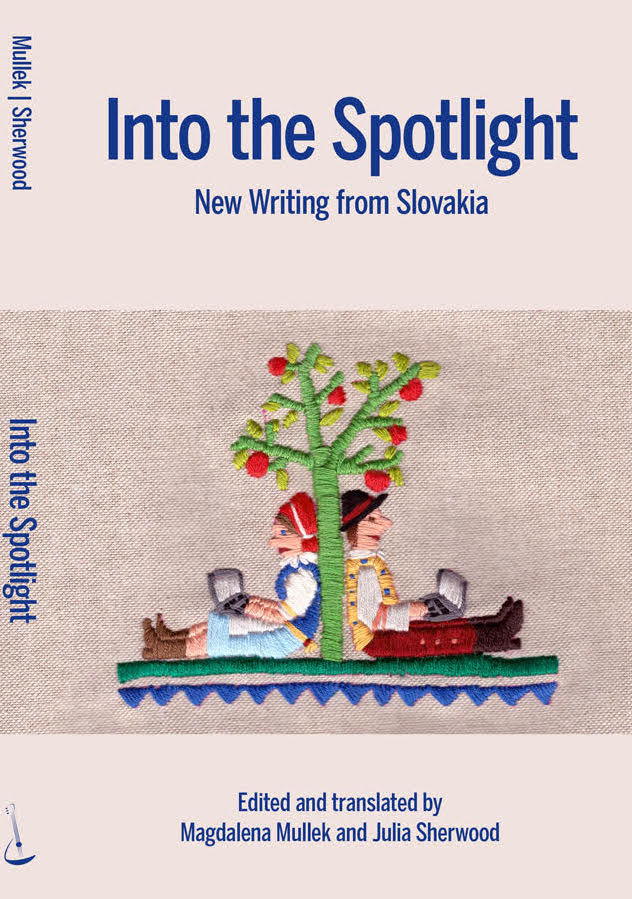 Into the Spotlight
An anthology of Slovak fiction
Translated from the Slovak by Magdalena Mullek and Julia Sherwood
Published by Three String Books
TRY TO ASK even a very well-read English-speaking literary type to name a Slovak writer and you will likely be met with a blank stare. "Well, Milan Kundera was from Czechoslovakia . . . does that count?", they mumble hesitantly. Now Kundera, who is no more Slovak than your mumbling acquaintance, quite naturally doesn't count, so you are back at the blankness of that stare, a void in a potentially fertile mind into which the anthology of Slovak fiction Into the Spotlight can be thrown like a seed or, better yet, a bomb.
The truth is, literary anthologies are often unsatisfying. No sooner do you find a writer you love then you turn a page or two and it's all over. Then you suddenly find yourself in the midst of another writer whose work you merely like, mildly dislike or positively hate. It's a tease. But what distinguishes this particular collection from the average run of anthologies is the sheer variety and newness of voices it gathers together.
It's like being granted entry to a new world, not necessarily a country, least of all to Slovakia (if you want to go there buy a plane ticket!), but more like to a city, with each of the writers in this book like a variety of city street:
An excerpt from Pavol Rankov's novel Mothers would be one of those long, dark winding streets in the Old Town. It tells the story of a pious Slovak woman imprisoned in the Soviet Gulag as her life is being researched by a young masters student. The stark and powerful work offers a unique perspective on one of the 20th century's most horrific chapters.
Uršuľa Kovalyk's short story "Night Circus" is similarly dark, yet exhilarating, erotic and surreal in a way that defies a literary parallel. A woman on a solitary nighttime walk on the outskirts of town finds herself the audience of one at a circus where tests of power and submission don't play out as planned.
Monika Kompaníková's "The Last Evening" is potentially the darkest story of all, with its three generations of a family packed together in a small apartment, unable to find the time, effort or ability to make contact with one another, to the point where the Pater familias, Viktor, is ready to end it all. Kompaníková's skill as a writer allows her to navigate Viktor away from his dead-end without any sentimentality or false hope.
Jana Beňová's "A Body of Music", on the other hand, would be a sunlit street of brightly colored houses, its fragmentary recounting of the love developing between two women in the Prague Symphony Orchestra is as light as the music that binds them together. In "The First Victory of the Superstores" it is the boulevards of mirrored glass that Michal Hvorecký evokes in his absurdist take on the coming of high capitalism to a former socialist country, while the excerpt from Pavel Vilikovský's On the Left Bank of Memory looks at similar dynamics from a very different viewpoint in the mocking sketch of a wanna-be patron of the arts.
Others stories from writers such as Ivana Dobrakovová, Marek Vadas, Víťo Staviarsky, Peter Macsovszky and many others range from Slovakia to the Netherlands, Italy and the Central African Rainforest and tell tales of sex on public transportation, living with illness, and the misadventures of a Slovak Roma.
Into the Spotlight goes well beyond your typical anthology by providing excellent and brilliantly translated introductions to a wide range of Slovak writers, some of whom already have books available in English translation (Uršuľa Kovalyk, Pavel Vilikovský), others who have novels coming out very soon (Balla, Jana Beňová), and others who have translated manuscripts ready for publishers ready to get in on a source of some truly excellent contemporary writing that many more people should know about.
– Michael Stein