HAMAM BALKANIA
(an excerpt)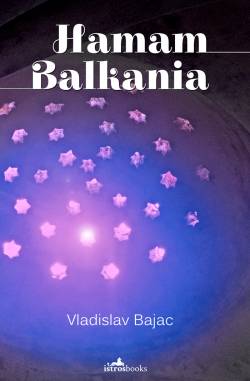 This is a book that lives in two parts – one set in the Ottoman empire of the 16th century, and the other in our own 21st century reality. Here we have the story of two friends, both taken as children from their homes and inducted into the Turkish Sultan's private guard: Sokollu Mehmed Pasha, the Serbian shepherd boy who rose to the position of Grand Vizier and Koca Mimar Sinan, the 'Michelangelo of the East'. Between them they represent both destruction and creation, while at the same time providing us with a harrowing insight into the heart of religion and identity. Back in our own time, we hear the voice of the author, sharing with us his experiences in the modern world, and his musings on faith, identity and nation. This is a truly ambitious book that rewards the reader with insights into some of the great questions of our time.
                                                            The End
He wished that someone would kill him. Yes, that is right. Simply – to be killed. In the past year so much that he cared about and so many that he loved had disappeared from his life. This was, of course, no accident. It was all carefully planned and likewise carried out. He had to admit – his opponent executed it all without error, and thus, from the standpoint of the skill and expertise of what had been done, he had absolutely nothing to object to. Except for the very basis of the idea: why had his enemies set the entire machinery in motion and spent so much time, money and energy in order to obliterate everything dear to him, when it would have been much quicker, cheaper and easier to kill him and him alone?
Yet, in fact, he knew the reason. What they really wanted was for him to constantly ask that question and, not finding an answer, to ultimately feel so alone and abandoned that he wished to live no longer. Because watching those near, dear and loyal to him disappearing one by one before his very eyes, that had to hurt, and it went on and on. If they had killed him first and immediately, there would be none of the suffering they wished him to go through. To be honest, after so many decades in authority, at the very top, he had to expect such a decline. So it had been, it seems, from the beginning of the world; one's rise is most often associated with one's fall.
Whoever reached the top, must also find the bottom, in whatever sequence. But whether everyone actually had to fall to the bottom after being at the top, that is questionable. It did fall to him. Or it was, as they say, his destiny. Or had he actually brought on his own decline.
To be fair, his fall was actually rather literal. No one replaced him, overthrew him or passed him by in a new distribution of authority (even if such things had been planned). He fell from a single, sudden stab of a knife right in the heart and now, there he was, lying in a pool of blood, watching his entire past life as if he were summarising it before death so that he would not forget it.
What more could he ask, his wish was fulfilled: someone had killed him.
Strange, how death can be a relief. Certainly, his murderers had not done this to show him compassion. During his reign, violent death had been a normal, everyday phenomenon; the nuances were just in the type or degree of the morbidity and brutality. The Empire had required violence at all times and in all forms. While he was a grand vizier, taking others' lives was not in any way characteristic of him as a leader or, God forbid, as a person. It was part of protecting the system; it was not even a matter of safeguarding his own authority. It was a mechanism, centuries in the making, that no single individual, no matter from what position of authority he acted, could disturb, much the less change, even if he wanted to. In the battles, wars, campaigns and conquests, death was commonplace. It occurred frequently in peacetime as well, only just not as widely spread.
After all, was he not famed as a grand vizier also because he ruled during the reign of three sultans! Who else could make such a claim? A rarity was a vizier who could survive the enthronement of one sultan, and no one ever connected three in a row! All death had originated from the highest ruler: did not every sultan, when taking the throne, by an unwritten law, first kill all his brothers (some also killed their own children) so that they did not threaten his reign with their very existence?
It would also not be true to say that he was waiting for his own death. It simply did not surprise him. About Death itself he knew everything: it would be difficult to find someone who could outdo him in his knowledge of its causes and effects, its kinds and types. Perhaps he would not excel at questions of its usefulness: not one of his teachers or rulers had instructed him about such secrets because the question of purpose would never be asked by such people.
'Wishing' to die did not also mean that he 'longed' for it. His wishing allowed him to peacefully await his own fate. It removed all unnecessary uncertainty.
Now everything stopped being important, and especially everything that required additional time for reflection. There was just not enough time for anything. Except for death.

                                                       The Very Beginning
Since I had inwardly proved to myself that I had not 'dried up' as a writer, I could begin in reality to struggle in solving a dilemma. Which of the three planned books should I start to write? I will not mention the other two anticipated books because I have, obviously, started writing the frontrunner. Of course, subtle reasons were in this book's favour because I had also done most of the serious and necessary preparatory work for the other two future books from the narrow selection.
Of those subtle reasons, the scales were tipped by those that I would group under 'local-patriotic' reasons. Namely, in a recent conversation with a colleague on the topics of nationalism and globalism in literary themes, I realised for the first time the fact that the fervent defenders of the 'domestic novel' had labelled me 'cosmopolitan', a term that they used with condescension. Yet in this conclusion they ignored the fact that in four of my five published novels the action at least begins or takes place entirely in Belgrade and/or Serbia, and that of my seven books of prose (not counting this one, of course) six contain the same topography! And yet, the fault-finding had no end: perhaps those books in their essence or message were too cosmopolitan, so even local geography or local action could not help them. They did not manage to rise to the level of national myths, which was, to be honest, not part of their conception either.
The chosen topic hid new traps, not only compositional but also those mentioned earlier – ideological. However, if a writer puts too much stock in all that, he probably would never write anything (worthwhile). Thus, I resolved to write about a Serb who became something else. This 'something else' was what interested me. Not really the 'Serb' part although, even if I wanted to, I could not separate that from 'Something Else-ness'. If I were to delve into it really deeply, I would have to admit that I was actually and essentially interested only in the existence of the transition from One into Something Else: the very act in itself.
So, I started researching, investigating, gathering, selecting, accepting and rejecting my materials. Yet, a method had to be chosen for this gathering activity, or at least the order of steps to be taken. Facts as a sort of leitmotif of the process could pop up from anywhere and then be added to the already existing ones. One of my methods was to follow the traces of the protagonists. Thus, over several years (in parallel with other ways of studying this topic) I basically passed through the most important regions where Sokollu Mehmed Pasha had been or had worked: Višegrad with its environs and the wider area of eastern Bosnia and western Serbia (including the Drina River that divides/joins them), Herzegovina and Dubrovnik, Vojvodina and central Hungary, its western part with the centre of the old Austro-Hungarian Empire – Vienna, all of Bulgaria in its breadth, the former capital of the Ottoman Empire – Edirne, and then to the heart – both ancient and modern – Byzantium/Constantinople/Stambol/Istanbul, and all the seas in the area (the Adriatic, the Black Sea, the Sea of Marmara, the Aegean Sea). I finished my search in southwestern Turkey and, at the very end, in the Princes' Islands. I covered it all several times. Persia was the only part to remain outside of my reach, as I was hindered by the wars in the Turkish surroundings – today non-existent Persia. Before that, the wars around Serbia, in today's non-existent Yugoslavia, hindered me from seeing things in my own backyard. (Belgrade, which was so vital to me, was presupposed also as a toponym. In any case, the whole thing started there and, in principle, soon everything will end there as well.)
In parallel, I also visited the architectural wonders of Mimar Koca Sinan, a contemporary of Mehmed Pasha and the second character in the forthcoming book. I also visited a man named Orhan Pamuk, and a certain V.B., whom I was with most often. These latter two became the second couple of the parallel action of the planned novel.
These four people became characters in the same book (placed, in fact, on opposing pages) which recruited all of them in a conspiracy against history as I knew it.
____________________________________________________________________
VLADISLAV BAJAC is a writer and publisher born in Belgrade, Yugoslavia in 1954. He is the author of eleven books, including six novels, three books of short stories, and two books of poetry. He is the founder and has been the manager of the internationally acclaimed Center for Geopoetics Publishing since 1993 and was the vice president of the Serbian PEN Center from 2008 to 2010.
His most recent novel Hamam Balkania won the International "Balkanika Award" for the best book on the Balkans in 2007/2008, the "Isidora Sekulic Award" for the best book in Serbia in 2008, and the "Hit Liber Award" in the same year for one of the ten bestselling books in Serbia that year. The novel was also nominated for the International IMPAC Dublin Award in 2011, and was shortlisted for the Athens Literature Award in 2012.
Hamam Balkania is being published in English translation in the UK at the end of January 2014 by Istros Books
____________________________________________________________________
About the Translator:

RANDALL A. MAJOR is a linguist who specializes in translation studies at the University of Novi Sad. He is one of the editors and translators of the Serbian Prose in Translation series produced by Geopoetika Publishing. He has published dozens of translations from Serbian into English, including Svetislav Basara's The Cyclist Conspiracy.
____________________________________________________________________