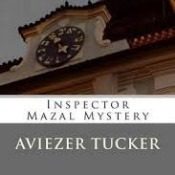 Murder in Prague
By Aviezer Tucker
There are few lines of work where mononymity is considered suitable. Roman emperor, potent Brazilian striker, blond American pop star, mustachioed European dictator and sleigh-driving reindeer are among them. And so it is for the discerning detective. Smart, but unassuming, incorruptible and just a little bit off. He (and with all due respect to Jessica of "Murder, She Wrote" they are usually men) often has a notable fashion flaw or flourish. Work has become a compulsion. Think Dupin, Petrovich, Holmes, Poirot, Barnaby, Fandorin or Columbo. While technically the best damn defense attorney south of the Mason-Dixon Line, think Matlock in his sweet baby blue leisure suit.
The archetype is a familiar one, but its recurrence is a testament to its enduring appeal. In Aviezer Tucker's latest book, Murder in Prague, Inspector Mazal steps into the role. He is a family man none too excited to be shaken from bed by the early morning call of duty. He prefers jeans to formal wear, sports low cost aftershave and wears sporting clothes when relaxing at home. His wife is a journalist who studied at Columbia and the pair has a newborn baby. Mazal is smart, the kind of guy who might have gotten further ahead in the world had he been willing to work the angles in communist-era Czechoslovakia. He wasn't and now he isn't. Perhaps most troublesome for him is that his sense of morality prevents him from enjoying the not-so forbidden fruit of Czech public service: Cash in unmarked white envelopes. To contemporaries, a man who doesn't take a little sweetener in his coffee is not to be trusted.
While the figure of the gumptious gumshoe is alive and well, Tucker, the book's author is one of a dying breed – a genuine man of letters. He has written books on historiography, the philosophy of dissidence, and Plato. He works at the University of Texas's Energy Institute and recently penned an article for the austere American journal Foreign Affairs. Tucker is also deeply familiar with Prague, the book's appropriate setting, having lived there in numerous stints over the past two decades.
This familiarity with Nezval's City of Spires is both a blessing and curse. While the setting becomes itself a central character in the drama, it is sometimes a distraction as well. Ample references to specific consumer brands and the uneven peppering of Czech words gives the reader occasional pause. At times it has the subtlety of a Sparta cigarette. Elsewhere, references are coy, playful and funny. Perhaps seeping out of Tucker's subconscious, Mazal's boss Major Zeman recalls a classic television detective dating from 1970s Czechoslovakia. That show was famed for the 30 year arc of its plotline, which conveniently ran parallel to the rise of a worker utopia. Paradise is now lost, but fear not, a new Major Zeman movie is in the works. A bit more Major Zeman and a bit less description of the aranžmá might have served the narrative flow. Like late nights, literature is best served heavy on wit and light on cheap tobacco.
As for the book's plot, even non-detectives might deduce from the title that the story begins with a homicide in the Golden City. The body of the owner of an antique bookstore is discovered by street sweepers in the Jewish Quarter. The apparent cause of death is that most Bohemian of afflictions – defenestration. The walls of the bookmonger's apartment are covered with anti-Semitic graffiti, prompting the police division charged with investigating extremism to get involved. But for Mazal, this extremist explanation is all too elementary. If Holmes is fond of simple solutions to complex crimes, Mazal's inquiry is about to take him through a series of literally Kafkaesque twists and turns. All manners of Prague characters intervene: A brawling bunch of Belfastians from a stag party (or are they?), rabbis, diplomats, academics, and the deceased's youthful, buxom American lover. As in the best of the genre, the resolution of the saga is unperceivable at the beginning.
The book is a confident debut in fiction for an author previously associated with more-academic pursuits. There are bits of text that appear a little raw, and there are indeed flaws in this novel, but none so egregious as to prevent readers from looking for more. This is what this literary species is about. A detective who solves one case is hardly a detective at all, and for mystery adherents, be it by book, movie, TV show or the holy hybrid – the made-for-TV movie – a similar maxim applies. Mazal proves he is capable of solving a murder mystery. Nonetheless, at the end of this book he leaves two truly existential questions unresolved:
Given Peter Falk is not available, who might play him in the miniseries?
Can a man get a decent leisure suit in Prague these days – possibly in periwinkle?
—Benjamin Cunningham
____________________________________________________________________
BENJAMIN CUNNINGHAM is a Prague-based writer and journalist. He covers Central Europe for The Economist.