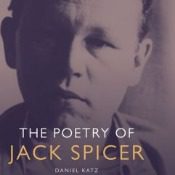 The Poetry of Jack Spicer
By Daniel Katz
Edinburgh University Press

For a poet who lived in a self-imposed publishing exile, not allowing his poetry to be distributed outside his coterie of friends and associates in Berkeley, California, and later the North Beach neighborhood of San Francisco, Jack Spicer has been very well-served by posterity. Published exclusively with the smallest of presses during his lifetime, Spicer's work in recent years has been gathered in a collected poems, a collected lectures, and a biography by a significant academic press.
The latest publication on this cryptic, powerful and, as it turns out, influential poet is The Poetry of Jack Spicer, "the first full critical study of this San Francisco Renaissance poet." Written by Daniel Katz, a scholar who has previously published books on Samuel Beckett, and expatriate American modernist writers, this is a focused study that elucidates some of the most important concepts and practices of Spicer's poetry in five interconnected essays that deal with Spicer's life and work in distinct, chronological periods.
Trained as a linguist, Spicer was equal parts theorist and practioner of avant-garde poetics. Two ideas have come to represent his writing more than any others: Seriality, and the concept of "the outside," or a poetics of dictation. Katz examines the first in the book's opening essay, "The Early Poetry: Cartography, Seriality, Time."
The trick naturally is what [Robert] Duncan learned years ago and tried to teach us — not to search for the perfect poem but to let your way of writing of the moment go along its own paths, explore and retreat but never be fully realized (confined) within the boundaries of the poem.
This quote, from Spicer's letter to Robin Blaser, which appeared in Spicer's poetry collection Admonitions (a publishing history that itself points out how Spicer blurred boundaries between poetry and prose, theory and practice, the man and the poet) best summarizes Spicer's practice of seriality. Influenced by his friend Robert Duncan's use of a less rigid approach to writing poetry, which no longer privileged the singular, coherent expression of a single poem, Spicer began in the late 1950s to compose book-length sequences of poems, dubbing his early work "one-night stands." Katz explicates Spicer's practice of seriality, and provides illuminating close readings of several of Spicer's early, non-serial poems, which have not aroused as much critical attention as his later work.
It's refreshing to read interpretations of Spicer's early poetry, because it is deft and often humorous, and frankly less bitter than much of his later work. There is a playfulness in Spicer's early poetry that takes on a more menacing tone in his later writing. Consider "Psychoanalysis: An Elegy," which Spicer wrote in the late 1940s. A call and response from analyst to analysand, it is a riposte to the fad of psychoanalysis, but it is also one of the most earnest and pastoral California poems this poet of the local ever wrote.
What are you thinking?
I am thinking of how many times this poem
Will be repeated. How many summers
Will torture California
Until the damned maps burn
Until the mad cartographer
Falls to the ground and possesses
The sweet thick earth from which he has been hiding.

What are you thinking now?
I am thinking that a poem could go on forever.
In his astute reading of the poem, Katz writes: "Certainly the temporality of drift in 'Psychoanalysis: An Elegy' is counterbalanced by a circular, cyclical temporality of the seasons, recitation, and neurotic repetition, yet what both these conceptualizations share is a resistance to teleological frameworks of progress, arrival and completion." It might be shocking for readers familiar with Spicer's work to see him get the academic treatment, yet Katz illuminates important aspects of this work from a point of view that brings new interpretations to light.
The most original essay in this collection, "The Metasexual City: Politics, Nonsense, Poetry," deals with Spicer's middle period, when he was furiously writing serial poems and hosting his now-legendary "Poetry As Magic" workshop at the San Francisco State College. In this essay, Katz deftly combines close readings of Spicer's poetry of this period with the social lives of the fermentative poetry community of San Francisco, which included Robert Duncan, among others. At the same time, Katz teases out some of the more latent homosexual aspects of Spicer's poetry, and argues persuasively that these figure there crucially:
However, throughout Spicer's work hovers the possibility of another space of potential comradeship, beyond the City — San Francisco, Socrates' Athens, Rimbaud's 'villes' — and over and against the infolded loneliness of katabetic descending and ascending. This is the world of gay companionship Whitman sketches in his "Calamus," or even more, in his non-katabetic, non-teleological "Open Road" of encounter and sympathy.
This essay casts a new light on Spicer's famous cantankerousness. Yearning for community, Spicer furiously defended his coterie from what he saw as pernicious outside influence. This at times manifested itself agressively, as in the evening when he read "For Joe" at a reading in honor of Denise Levertov, who was visiting San Francisco. It begins:
People who don't like the smell of faggot vomit
Will never understand why men don't like women
…
Send us no letters. The female genital organ is hideous
Discussing this "wildly agressive" poem, Katz argues that Spicer was not excluding Levertov from the company of poets, but by dedicating the poem to Joe Dunn, a straight friend, he was pointing to the sexual gap within this company. "Rather than establishing a group identity it exposes the fissures within the group it gestures at constructing," Katz writes. This is typical of Katz's canny explications of poems that are "more complex than [they] might seem."
In the decades since Spicer's death in 1965, discussion of his work has been scant, even outside of the mainstream. Robin Blaser published the first comprehensive study of Spicer's work, "The Practice of Outside," in 1975. A decade later, Ron Silliman published "Spicer's Language," a considered and revealing essay that made clear Spicer's importance to Language poets. But Spicer's work, and especially his later poetry, is famously difficult: Labyrinthine, and at times so illusive and seemingly devoid of center, that critics are often forced to resort to metaphors when describing it. But time often clarifies the mystery of "opaque" poetry. And if anyone needed convincing that we are in the midst of a Spicer renaissance, this well-considered academic treatment is it. Katz's critical insight is sharp, yet he retains an obvious warmth to Spicer's work.
Spicer is poet whose practice of life is legendarily intertwined with his practice of poetry. After all, the title of his collected poems, "My Vocabulary Did This To Me," were the last words he uttered to Robin Blaser, as he lay in a hospital bed dying from alcoholism. Long-revered by the avant-garde, Spicer is now recognized as a poet whose work is fit for academic unpacking. Perhaps this was to be expected. As Spicer himself wrote, in 1962:
He died from killing himself.
His public mask was broken
Because
He no longer had a public mask.
People retrieved his poems
from wastebaskets. They had
Long hearts.
Oh, what a pain and shame was
his passing.
People returned to their
Business somewhat saddened.
—Stephan Delbos