Actor, director, writer, and Founding Artistic Director of Shakespeare & Company, Tina Packer is a formidable presence in the world of drama. Over 35 years at Shakespeare & Company, located in the Berkshire Mountains of Massachusetts, Packer has directed over 50 Shakespeare productions, as well as many new and contemporary works. As an actor she has played countless roles. Most recently at Shakespeare & Company, Packer performed in Women of Will, The Complete Journey: Parts I-V with her acting partner Nigel Gore, in the summer of 2011. Spanning five parts, Women of Will chronicles the female characters in Shakespeare's canon, with a mixture of drama and trenchant insight.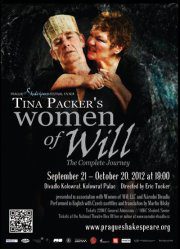 I met Packer on a brisk September day just after she finished a rehearsal for Hamlet, which she is directing this autumn for The Prague Shakespeare Festival. We sat down at a restaurant terrace overlooking the Vltava to discuss that play and Women of Will, which opens Sept. 21 and will continue until Oct. 20, at Kolowrat Theatre in Prague, where she will play the lead role in a production directed by Eric Tucker.
The day was undeniably autumnal, and Packer chose a seat in the sun, complaining, almost apologetically, that the theatre had been very cold. She has an easygoing, comfortable manner, which kept up even as the shadows lengthened and a breeze rustled the linen table cloth. Occasionally, when describing her love for Shakespeare's plays, for example, she leaned forward, speaking with a pronounced, lyrical rhythm that "started getting a hold of me and pulling me forward," as Packer herself said about the Bard's words. It was, to put it simply, dramatic. And a pleasure to hear.
---
INTERVIEW WITH TINA PACKER
B O D Y: Why is Shakespeare still appealing, to you and to audiences, 400 years after his death?
TINA PACKER: That's simple enough. His writing. The poetic intention behind it opens up the human psyche so you can see more things about the world and about yourself when you encounter that text. The medium of theatre, when you really play it well, it allows you to see yourself. And Shakespeare himself goes deeper. That's why I've stayed with Shakespeare, because you're learning about yourself and the world all the time. And it's deep enough, and satisfying and surprising enough, that he can appear in any language.
Shakespeare was taken around the world by the bosses of the British Empire to "civilise" everyone. But look at the West Indies, they took Shakespeare and turned it against the imperialists. So the imperialists can think "this is text that supports our world order," but the revolutionaries think it supports their world order, and that's true with Shakespeare. Now, with Women of Will, I'm doing the feminist bit. You can look and see what a feminist Shakespeare was. I don't mean he's against men, I mean that he so illuminates what happens to women that you can see why it is that all the social structures need to change in order for women to truly be women. And it comes about through love between men and women, not through women suddenly being in ascendancy, and men being put down. It really is through the unity of the masculine and feminine. But I don't think it can only be a man and a woman who can see this together. Two men, or two women can see it together, providing they've got the spectrum of human experience and are willing to allow the generating principles of the human psyche to work upon them.
B O D Y: Are Shakespeare's plays the product of an individual genius, or the product of a combination of social, literary, political, and philosophical forces?
TINA PACKER: It was a combination of forces meeting with an individual genius. I think it could happen again, but I doubt it's going to happen in our world, or at least not that kind of genius. Because at that moment there was this convergence of languages and the desire to find out more. So you got these languages merging into each other, and opening up the vocabulary. But the vocabulary would only have been opened up providing that people were really wanting to ask the questions. So, as the older hierarchical order started to break down with the idea of how states should be ruled, that coincided with people wondering if there really is a God, and is he Catholic, or Protestant, and so forth. And that also combined with the Muslims and the Jews being spread out around the world, so you get these collisions of different ways of looking at the world, so the fundamental philosophical questions start coming out. But then also you have the language with which to say it. And why I say I don't think that it can happen at this point in time, is because we're reducing our language all the time. Maybe it will happen amongst a small group of mathematicians or neuroscientists, but it won't happen with the general populace, which was happening then.
B O D Y: How are your rehearsals in Prague coming along?
TINA PACKER: It's kind of overwhelming, as I arrived and we began immediately. So I feel as if I've hardly got into Prague, which is why it's nice being here, overlooking the river, being able to have a moment's peace. With Hamlet, we're trying to focus on what the questions are. I think it's the first modern play in which there are no answers, just hundreds of questions. Even at the end, you don't know the answer: Should he have revenge, or should he not, how long is Fortinbras going to stay, inhabiting Denmark, and how soon is the next round of carnage going to take place? So, with Hamlet we're just kind of building the picture.
For Women of Will, it's been crazy because there's been nothing but film crews in all the time. There's been so much filming of what it is we're doing. We just about finished our tech yesterday between filming crews. It's a great privilege to be performing at the National Theater. And it's extremely adventurous of Guy [Roberts] and the Prague Shakespeare Festival to invite us here to do Women of Will. Having Martin Hilsky, who is an established Czech figure, translate, is really terrific. There's always this adjustment to a new space…it's very difficult, but it's great. It's an adventure. You get thrown around a bit. But I like being thrown around. I like being kept on my toes.
B O D Y: So the context you're working in is quite different. Are you approaching the plays differently in Prague than you have elsewhere?
TINA PACKER: We were doing it in Massachusetts where everybody knows us, so we had an audience there. Then we moved to Boulder, Colorado, to be somewhere no one knew us, to see the reaction, and it was terrific. People got more and more interested. Now Prague is the international bit. If we're speaking in English and most people speak Czech, or English is their second language, will it still work? We're going to find that bit out. And this is all in preparation for going into New York in the spring and hopefully by then we'll have some idea of how it should all go.
B O D Y: When did you decide you would dedicate your life to Shakespeare?
TINA PACKER: By the time I was eleven I was doing Shakespeare in school and I liked it. It was great fun, especially if I had teachers who would let us get on our feet, and not do it behind the desk. I lived in Paris for two years before I went to Royal Academy and I read voraciously in those two years, within English and American literature and what happened was, the more I read everyone else, the more I could see Shakespeare was where it was at. But it was really when I was in drama school that I began to get passionate about Shakespeare. I started to find out that I liked working on his plays more than anything else. Then I went to Royal Shakespeare Company, and that's when the plays started getting a hold of me and pulling me forward. Then I thought to become a director because I was interested in things I couldn't answer just as an actor looking for other people to give me jobs. I had to be the master of my own fate. I had to be a creator of theatre, not just a participant in theatre.
B O D Y: How did you go about founding Shakespeare & Company?
TINA PACKER: I had worked out all these ideas of how Shakespeare should be done. Mostly it had to do with training actors. I wanted actors to go deeper into what they were doing. I want to get the language to go deeper and deeper. I devised a series of exercises of how to approach the text; how to get words in the body more, so they had more resonance. And when I started directing at the London Academy of Music and Dramatic Art, I could do this with the actors because they were in training. Then I went to the U.S. and got money from the Ford Foundation for 11 months with the master teachers of my choice. So we went into these training methods. And I was right about alot of the stuff, but I was wrong about how to run a company, so at the end of that I had a kind of nervous collapse.
From there I wanted to set up the company permanently, and didn't care whether it was in America or England. I wanted to live in the country and in a community, to see if a classical theatre could affect a community…I was very idealistic. Someone suggested the Berkshires, as there's an audience there. It's a smashing community. We lived in Edith Wharton's house, like a commune, and we just started working. The house was rented for four months and we had $3,500 in the bank and we just started. If I knew what I know now I wouldn't ever have done it. I thought the money would come and it did and has come. But it's been a lot of hard work. I was just so fixated on doing it…. It was 25 or 30 people coming together and doing Shakespeare. We had a very successful first year, we each earned 50 bucks a week, cooked for ourselves, and we kept on from there. The budget now is between four and five million dollars. But I say we do 10 million worth of work each year and I think we do.
B O D Y: As a director, what do you look for in an actor?
TINA PACKER: Somebody who is honest and courageous and curious, and can use the language well… Or at least has a desire to use the language well. Some people have a love of language but their voice is blocked, so you need to unblock it. I think actors are the most courageous people going. They're willing to live with so much uncertainty it's stunning. Then when they're rehearsing they're still living with uncertainty. They're intelligent, they're clever, they're resourceful, and by and large they know alot because they do alot of plays from different languages and cultures. And if you spend your time with Shakespeare he makes you smart!
B O D Y: Women of Will takes a very "hands on" approach to Shakespeare's plays, weaving and extracting different stories throughout the canon. What would you say to scholars who believe this is akin to blasphemy?
TINA PACKER: They haven't said that so far. Because, actually, there are more scholars now that agree with me that the plays are about playing and should be played. I have a slight ascendancy I think because I'm playing the plays and my ideas come out in the playing of the plays. There can be a great unity between actors and scholars, because scholars' close reading of the text can be useful. But if you're stuck in your head all the time, it doesn't do you any good as an actor; it doesn't translate.
—Stephan Delbos